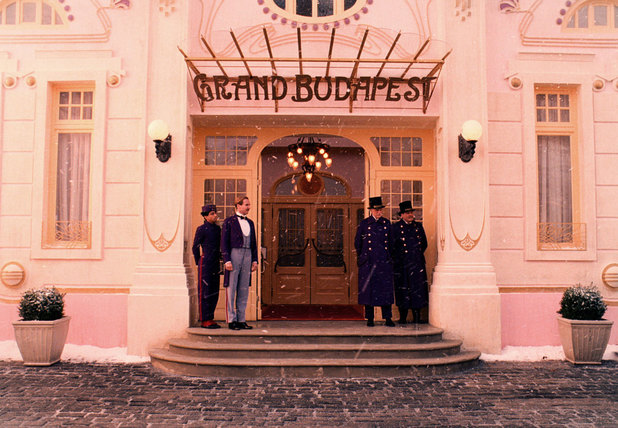 Wilkommen, bienvenue, and welcome!
In response to the innumerable hardships of the Great Depression, Hollywood released a series of irreverent comedies throughout the 1930's that gave viewers a chance to escape from their problems and kept them coming back for their next comedic fix. These comedies, known as screwball comedies, featured whimsical and often bizarre plots in which characters attempt to hilariously maneuver through outrageous obstacles. As political and financial tensions continue to mount, our own generation could use a healthy dose of screwball escapism. Fortunately, there is a new release which not only provides the zany fun of the 1930's tradition, but also adds a sharp modern edge; The Grand Budapest Hotel.
The story begins in 1968 as an unnamed British writer (Jude Law) visits the long since dilapidated Grand Budapest Hotel in the fictional country of Zubrowka in hopes of finding some inspiration. Over the course of his stay, the writer befriends the hotel's mysterious proprietor, Zero Moustafa (F. Murray Abraham), who tells the writer the tale of how he rose from a life of poverty to become the business tycoon that he is today. The film then flashes back to the 1930's as young Zero (Tony Revolori) begins on the job training in his new position as the hotel's lobby boy under the tutelage of the hotel's legendary concierge, Gustave H. (Ralph Fiennes). Zero soon learns that the debonair Gustave goes above and beyond his duties as concierge, and provides additional services as a 'companion' (or as I prefer, gigolo) to many of the wealthy matrons who frequent the hotel. All is well for the unlikely duo until one of Gustave's lady-friends (Tilda Swinton) is found poisoned and her scheming relatives (headed by Adrien Brody) conveniently place the blame on Gustave, who has inherited a priceless work of art beseeched to him in her will. A madcap caper ensues as Zero attempts to break Gustave out of prison and catch the killer, all while attempting to keep hold of both the priceless painting and his relationship with local baker's assistant, Agatha (Saoirse Ronan).
Through its combination of a fictionalized 1930's setting and screwball antics, the film harkens back to the comedies of Hollywood's Golden Age from start to finish. Fiennes' Gustave fills a role that in an earlier era would have been reserved for plucky actresses such as Carole Lombard or Katherine Hepburn. As the film progresses, Gustave is revealed to be a modernist take on Don Quixote who sees nothing but beauty and pleasure in an increasingly difficult and ugly world. Much like Hollywood's former leading men and ladies before him, Fiennes imbues his hapless hero with an endearing if delusional idealism that both lends credibility to the plot's often outrageous proceedings and makes it impossible for viewers not to root for him. Tony Revolori's Zero provides an excellent straight man, grounding a story that otherwise revolves around Fiennes' chaotic center. Revolori's deadpan delivery and apt comedic timing, played against Fiennes' zany enthusiasm makes the pair a formidable comedy team.
Our charming hosts
The film's whimsy is heightened by its equally dizzying plot and set design. After the initial straightforward opening, the story begins spiraling into a complex web of intrigue and thrills. Each step that Gustave and Zero take towards finding the truth serves to put them into another, even more odd, conundrum than the one that preceded it. This approach allows the film to make the most of its standard mystery premise and utilize it to the highest comedic potential. Similarly, the film's set, ranging from the pastel rococo design of the hotel to the quaint storybook-esque city surrounding it, gives the film an unreal quality befitting a fantasy or fairytale. Each surface of the hotel is shown in bright colors more befitting a dessert than a luxury hotel, and the landscapes outside hold a cut and paste quality that makes the entire film resemble a cinema sized pop-up book.

As a result, the implausible antics of the plot seem perfectly believable in this world of make believe.
Through its winning combination of nostalgic humor and modern sensibility, The Grand Budapest Hotel provides modern audiences with the sort of beguiling comedy that has been sorely lacking in cinema for several decades. With excellent performances, a razor sharp script, and an enchanting set, the film transports audiences into another time and place where unknown dangers and unexpected punch lines wait around every corner. The film manages to walk the fine line between genre homage and original venture and is guaranteed to earn appreciation from both classic film fans and modern cinema buffs alike. So join Zero and Gustave and check into the Grand Budapest; chances are you'll want to extend your stay.
The lord of the grannies