4 Films that Have a Surprisingly Emotional Scenes
Movies can bring out a variety of emotions. They can make you smile, laugh, and sing, fill with you fear and fright, and other times than can pull at your heart strings and deep the deepest depths of your soul and cause an explosion of emotions. Can anyone honestly say they don't break down crying when they watch films like "Brian's Song" and "Marley & Me". Well, it could be argued that some of those films are meant to be emotional, but what about the films that have a sad film that seems to come out of nowhere? Have you ever watched a Comedy, or a romance, or an action flick, or even a Horror film that just seems to have one deeply emotional and sad scene in it? Well we're going to talk about five of those scenes today, some of these emotional moments are brought on by stuff that should be emotional, like the death of main character, but still feel out of place when compared to the rest of the film.
1.) The death of Spock from Star Trek II: The Wrath of Kahn
I'm sure I've mentioned it before on this blog, but I honestly do believe that this is probably the saddest scene in all of cinema. I'm not even a fan of Star Trek, but I cry whenever I see Spock sacrifice his life and speak his final dying words. I remember hearing critic Doug Walker talk about this moment in his top 11 "Saddest Nostalgic Moments". It was pretty shocking to kill off one of the best and well known characters in a series, and nobody knew that Spock was going to return in Star Trek III. This came at a time long before we knew to expect a fake-out deaths of main characters *cough cough MARVEL*. What I, personally, think makes this scene most sad, is that you have a character, Mr. Spock, whose is known to think of everything form a logical stand point, and then does something completely illogical; sacrifice his own life so that the lives of everyone else on the space ship can be saved. He went in knowing that he would most certainly die, but knew; "the means of many, outweigh the means of the few".
2.) The Death of Bela Lugosi from Ed Wood
We now will go from the death of a beloved fictional character to the death of a real life Hollywood Legend...portrayed by an actor. Ed Wood is probably Tim Burton's least known film. It's the (mostly) true story of Writer/Actor/Director Edward D. Wood Jr., a man regarded by some of the top film critics in the world as the "Worst Director of All-Time". The film takes a look at many aspects of Wood's attempts to make it as a Hollywood film director. One of the more interesting parts in Wood's life was the friendship he formed with Hollywood legend, Bela Lugosi. You see when Wood (played by actor Johnny Depp) met Lugosi (played by actor Martin Landau), they both only saw each other as means to an end. Wood, an aspiring film director wanted to capitalize and Lugosi name and fame, and Lugosi who had all, but disappeared form the movie spot light was just looking for a paycheck to help support his drug addiction.
Over time the two actually form a friendship and actually think the world of each other, in no scene is this more prevalent than one Wood gets the new of Lugosi's passing away, which is followed by a scene of Wood watching the last clip he ever shot of Lugosi on a loop again and again, by himself. He knows he lost more than his best actor; he's lost a dear friend.
Now, I've read in articles about Wood & Lugosi's friendship, where Lugosi's family accuses Wood of taking advantage of the aging, drug dependent Lugosi, and tarnishing this acting career and legacy, but I've also heard that Lugosi really did think of the world of Ed Wood (or "Ed-die" as he was known to call him) and was glad that he gave him one more chance in the spotlight. Actor Martin Landau actually won the Academy Award for Best Supporting Actor for his portrayal of Lugosi. If you haven't seen Ed Wood, yet, I highly recommend you check it out.
*Unfortunatley I could not find a clip on YouTube for this scene*
3.) Ralphie fights Scut Farkus in A Christmas Story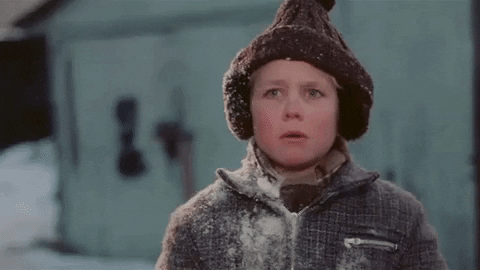 This holiday cult classic is filled with laughs and brings so many people joy, but there's one scene in the film that gets me, personally, a little misty eyed. It's the scene where Ralphie fights his schoolyard bully. After receiving a C on his essay about what he wants the most for Christmas, Ralphie is feeling pretty down, and then he is pelted in the head with an ice ball by his schoolyard bully, Scut Farkus. After Farkus taunts him, Ralphie snaps and attacks his bully, beating him senseless while shouting every curse word that he can think of. Ralphie is eventually caught red-handed by his mother, and then proceeds to breakdown and start crying himself.
I think this moment is so relatable to the child in all of us. As kids, our behavior came and went with our moods, but we all made sure to be on our best behavior right before Christmas, and you can just feel how upset and defeated Ralphie feels as he breaks down in front of his, Mom. He didn't mean to lose his temper and lash out in a fit of rage, but his emotions just got the best of him. He believes at this point that he is going to face a severe punishment from his parents, and probably also believes that he blew his chance of getting a Red Rider BB Gun from Santa for Christmas. Fortunately for Ralphie, though, things work out for him in the end, but yeah this scene sure does tug at my Heart Strings.
4.) "Noodles, I slipped" from Once Upon a Time in America
I'm finding that more and more people are slowly starting to discover this film. Here's the best way I can describe Sergio Leone's masterpiece of Cinema, "Once Upon a Time in America": Imagine if "The Godfather: Part I & II" were one film, but focused on Jewish-American gangsters instead of Italian-American gangsters. The film follows the lives of two friends in Brooklyn who start off as punk kids running cheap little scams and follows them to Adulthood where they become rich and powerful gangsters, bootlegging during the Great Depression. At a run time of almost 4 hours, this film has so much to show and offer, including a surprisingly emotional scene.
There's a scene that depicts the two main gangsters as teens being pursued by a rival teen gangster, named Bugsy, in their attempts to flee Bugsy, he opens fire on them striking and killing the youngest member of their group, Little Dominic. As Little Dominic lies in the street dying, he is comforted by his friend David "Noodles" Aaronson. With his dying breath he softly utters the phrase to his friend "Noodles, I slipped" before passing in a way in Noodles arms.
In a blind rage, Noodles attacks, Bugsy with knife stabbing him to death, and when a New York City Police officer tries to intervene, Noodles unintentionally stabs him too. For his crime Noodles, is sentenced to 12 years in Prison. Just seeing the raw emotion on Noodles face as he goes from great sadness to rage and anger is enough to make you feel something, and is definitely the saddest death in this epic Gangster flick.