Three friends, thousands of miles, and one national drag competition; what could possibly go wrong? It is this very question that is the premise of the 1995 cult classic To Wong Foo, Thanks For Everything! Julie Newmar. The film hilariously follows the hijinks that three very different New York drag queens find themselves in when they hit the open road only to be stranded in the heart of the midwest. While time has made the story's shenanigans more sweet than subversive, the film's humor remains every bit as infectious as the day that it reached number one at the box office. For a frothy cocktail of friendship, laughter, and compassion viewers can thank the film's stars, Patrick Swayze, Wesley Snipes, and John Leguizamo…and maybe Wong Foo.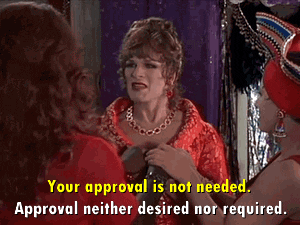 The story begins with drag queens Vida Boheme (Patrick Swayze) and Noxeema Jackson (Wesley Snipes) tying for first place in the "Drag Queen of the Year" competition, winning a trip to Hollywood to compete in the "Miss Drag Queen of America" pageant. Along the way they meet inexperienced and despondent would-be drag queen Chi Chi Rodriguez (John Leguizamo). Vida, determined to help Chi Chi reach her full drag queen potential, takes Chi Chi under her wing and persuades Noxeema to let the newcomer join them on their trip. The three form a fast friendship that is quickly tested when their car breaks down, stranding them in an ultra-conservative Midwestern town. The trio then embark upon an adventure that is equal parts hilarious and heartwarming as they teach the residents lessons in tolerance, empowerment, and pizzazz.
Through its fish out of water tale the film confronts viewers with vital lessons in tolerance and empowerment without missing a single comedic beat. The focus upon its three heroines provided 1990's viewers with an, empathetic if exaggerated, glimpse into the LBGT community. While the film was a far cry from the heavy hitting dramas that would tackle this subject in the future, it still succeeded in shedding light upon a community that film and television had largely ignored. The film particularly stands out for the depth with which each of its very different leading ladies is portrayed, as each struggles with her own search for her place in the world without falling into stereotypes or caricature.

As a result, the film's portrayal of its leads as admirable, likeable, and relatable characters acts as an apt call to tolerance without reducing the script to heavy-handedness or lecturing.

Similarly, the film aptly portrays the struggle of modern women as the local ladies that our heroines encounter are continually faced with the limits of gender roles, sexual harassment, and domestic abuse. While the inclusion of these obstacles highlighted vital social issues, the film is at its most empowering when Vida, Noxeema, and Chi Chi embrace their own unique selves and inspire their new friends to do the same. In this way, the film encourages viewers to not only strive beyond their own limits but to also help those around them do the same. Thus, while its story may be slapstick on the surface, To Wong Foo, Thanks for Everything! Julie Newmar is a film with crucial messages that will resonate long after the laughs fade.
The films shines thanks to the brilliant work of its cast. Jason London is endearing in his chivalrous turn as Chi Chi's small-town admirer, Bobby Ray. Stockard Channing imbues her role as abused housewife Carol Anne with an essential resilience and sympathy. Jennifer Milmore is a delight as Carol Anne's sheltered daughter, Bobbie Leigh. Chris Penn is an ideal villain in his equal parts bumbling and brutal portrayal of bigoted Sheriff Dollard. Even in the midst of stellar supporting performances, however, the film's crowning achievements belong to Swayze, Snipes, and Leguizamo who carry their unusual roles with infectious charm. Wesley Snipes is superb in his role as sassy Noxeema as he plays her cynical persona and inner idealism with equal aplomb. John Leguizamo infuses sultry Chi Chi with particular depth as he portrays her struggles to navigate both the drag subculture, and her fraught love life. Patrick Swayze brings Vida to vibrant life as he imbues her every larger than life action and gesture with just the right dash of 1990s girl power.
As one of the most wonderfully whimsical films of the 1990's To Wong Foo, Thanks for Everything! Julie Newmar more than earns its status as a cult classic. Through its by turns slapstick and heartfelt script and engaging performances the film is guaranteed to leave you with a smile on your face. Hit the road with Vida, Noxeema, and Chi Chi for a viewing experience that you will be sure to thank yourself for.