On Thursday, April 28, 2016 music legend Prince Rogers Nelson, better known as Prince, died at age 57. In a career that spanned three decades, seven Grammy Awards, an Oscar, and five number one hits, Prince redefined popular music through his blend of pop, funk, R&B, and synth rock, which formed a completely unique and instantly recognizable signature sound. While best known for his work as a singer, songwriter, and composer, Prince also worked in film and starred in three films, two of which he also directed. Dearly beloved, these words have been gathered here in tribute to Prince's film debut in which he showcased a performance that was the stuff of music legend; 1984's rock musical Purple Rain.
The film begins with an everyman protagonist known only as 'The Kid' (Prince) struggling to start a music career amidst a troubled personal life. In order to escape his disruptive home life with his parents (Clarence Williams III and Olga Karlatos), whose relationship with both The Kid and each other is fraught with emotional and physical abuse, he throws himself into his music. Despite his devotion to his work, however, he continues to encounter personal conflict as his band becomes plagued with in-fighting and several members consider quitting to join other groups. The Kid's primary musical rival, Morris (Morris Day), makes note of the band's difficulties and quickly takes advantage of them by pitching a new girl-group to their club's management and offering the position of lead singer to The Kid's girlfriend, Apollonia (Apollonia Kotero). She reluctantly accepts the offer, which brings the already frustrated Kid to his breaking point, leading him to lash out at her in abusive behavior that directly mirrors the same abuse he has been trying to escape at home. Faced with continuing his downward spiral and repeating the very cycle of abuse he has been trying to rise above, The Kid is forced to re-evaluate his work, his relationships, and ultimately himself in a coming of age story for the MTV generation.
After numerous stale efforts throughout the 1960's and 1970's, the movie musical threatened to become an outdated genre, but Purple Rain's balance of tradition and innovation brought the classic genre into the modern era. While the movie musical had been an established genre since the early days of talking pictures, movie musicals had largely shied away from rock and modern pop, instead utilizing the tried and true show-tunes that the genre had been built upon. Purple Rain reinvigorated the movie musical by not only incorporating, but framing an entire film around, modern rock and pop at their most electrifying. In many ways the film, which features several concert-worthy performances to propel its story, is as much a feature-length music video as it is a movie musical. For example, while most musicals feature characters spontaneously breaking out into song, Purple Rain restricts its musical interludes to the confines of the nightclub in which The Kid's band performs, keeping the film firmly rooted in reality. Despite its restricted use of music, the film contains musical performances that, with their use of choreography, costuming, and sound that were all on the cutting edge of pop culture at the time of the film's release would have fit in perfectly on an MTV special. Despite its trend-setting performances, the film's coming of age story remains a universal one that could have been used in movie musicals of previous decades. Timelessly compelling and an apt glimpse into 1980's pop culture, Purple Rain is truly a musical for the ages.
Chicks dig brooding
While the supporting performers all lend apt portrayals, Purple Rain truly belongs to Prince, whose charisma, showmanship, and passion carry the film. While The Kid is an everyman audiences can root for, he is also deeply flawed and displays dark tendencies. As a result, it was crucial that the role be filled by an actor who possessed the daring to fully portray The Kid without whitewashing his demons, but who could also balance the character's faults with enough likability to ensure that audiences would remain invested in his story. In Prince's hands, The Kid is a truly complex character whose struggle to break the cycle of his family's abuse and make good in music is one that is at once deeply personal and wholly universal. While he holds his own as a leading man, the pop legend's musical skills remain front and center as he brings The Kid's story to life through a series of classic performances that have become the stuff of music history. With Prince at the helm, Purple Rain is a film experience that audiences continue to bask in today.
Singer, songwriter, composer, musician, actor, and director Prince was a true artist whose work was never less than revolutionary. In the three decades since he first appeared on the scene, music has continued to evolve and change as movements and trends have come and gone, but Prince's influence remains a constant. In the wake of his death, his work remains a celebration of and testament to the sensuality, spirituality, and creativity that make up this thing called life. Next time that elevator tries to bring you down, look no further than Prince and his Purple Rain to give you the lift that you need.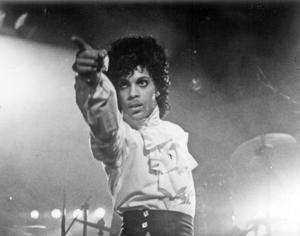 All bow before the Prince