The Kim Carnes song "Bette Davis Eyes" goes, "she'll tease you, she'll unease you all the better just to please you…". Over the course of a career that lasted over five decades, Bette Davis did more than tease, unease, and please; she set the standard for what film acting at its most complex and fierce could be. From her Hollywood start as a budding ingénue to her final films in which she became known as a scene-stealing character-actress, Davis blazed a fiery trail not just for women, but for all actors seeking to create meaningful and challenging roles. In honor of what would have been her 108th birthday on April 5th, I will be discussing three of my favorite performances from Davis' legendary career.
A romance that will leave you relieved to be single
Of Human Bondage:
Described by Life Magazine as "the best performance ever recorded on the screen by a U.S. actress" Davis' portrayal of wanton and malicious Mildred Rogers in Of Human Bondage was nothing short of explosive. The film follows the destructive on and off relationship between a mild-mannered medical student (Leslie Howard) and the vulgar tearoom waitress with whom he develops a masochistic obsession. After twenty films in which she was relegated to supporting roles and underwritten b-movie heroines Davis was finally able to show her full untapped dramatic range as the by turns seductive and abusive Mildred. While other actresses, including established stars Katherine Hepburn and Irene Dunne, refused to take on such an unsympathetic role, Davis rightly saw the part as an ample opportunity to make her dramatic mark. Despite the success of her performance, however, she was only nominated for a Best Actress Oscar after the Academy allowed 'write in' votes following public backlash when Davis was denied a nomination. She ultimately lost the Oscar to Claudette Colbert for her performance in It Happened One Night, but was awarded the title of Best Actress following year in what many deemed compensation for her earlier loss. Although her role as Mildred failed to earn her Oscar glory, Davis had passed the ultimate acting test with flying colors, and Warner Brothers took notice. Following the film's successful release, the studio continued casting her in a series of increasingly complex and daring roles that built the foundation of her landmark career.
Bringing sexy back...to 1914
Mr. Skeffington:
This 1944 drama was released during Davis' heyday when she reigned as the queen of Warner Brothers' studios. The film is both a cautionary tale warning of the dangers of vanity and an unlikely love story. The story begins at the eve of World War I, with Boston beauty Fanny Trellis keeping a string of suitors at her beck and call and leading a life of luxury that her family's depleted funds can no longer afford. She is forced to face reality, however, when she learns that to provide for their mutually lavish lifestyle her brother, Trippy, has turned to embezzling from his wealthy employer, Job Skeffington. In order to sway Job from turning Trippy in to the police, Fanny schemes to court and eventually marries the awkward, but devoted, Job. Ashamed that his actions forced his sister into a marriage of convenience to the much older and Jewish Job, Trippy enlists in World War I and is later killed in battle. After Trippy's death, Fanny quickly loses interest in her husband and embarks upon a series of affairs, which eventually leads to the couple's divorce. Years later, however, war and illness take their toll on both Fanny and Job, and the two are eventually reunited in time to learn that it is love rather than physical feature's that constitutes true beauty. Although billed as a 'women's weepie' or melodrama, the film is actually an apt portrait of a fading society and those who clung to it even in the face of social change. Throughout the film, Fanny insists upon behaving like the high society belle she was before the war, even as her society is changed beyond recognition. It is this inability to see beyond the superficial world of her of her youth that eventually costs Fanny her marriage, her relationship with her daughter, and nearly costs her a last chance at love. Similarly, the film indicts the prejudices of Fanny's world by highlighting both the absurdities and dangers of anti-semitism and the ways in which the anti-semitism already present prior to World War I eventually fueled the Holocaust during World War II. While not considered one of Old Hollywood's great beauties, Davis is flawless in her role as a spoiled and vain debutante and leaves little wonder as to how she is able to charm her many conquests. The film once again demonstrates Davis' willingness to put glamour aside as she portrays a character who not only ages over the course of several decades, but one who is also robbed of her beauty after contracting diphtheria. Over the course of the film she portrays Fanny as she ages from society belle, to sensual vamp, to humbled woman with equal aplomb and increasing nuance. While Fanny may not be "the most beautiful girl" that she is so often described as in the film, Davis' portrayal of her is nothing less than a thing of beauty.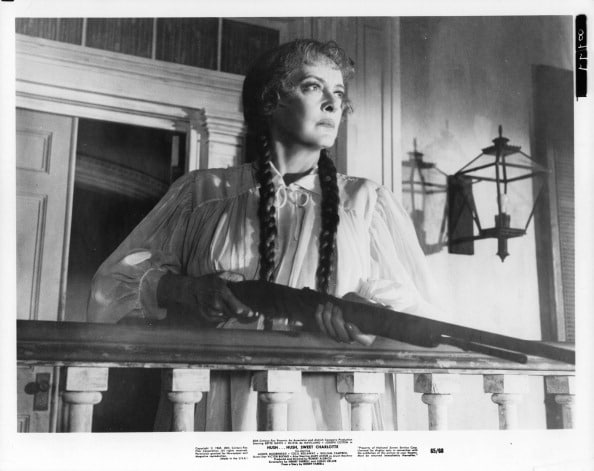 You feelin' lucky, punk?
Hush, Hush, Sweet Charlotte:
Released towards the end of her career, during which time she transitioned to a successful character-actress and horror maven, Hush…Hush, Sweet Charlotte is proof that even as she passed middle age Davis still had 'it'. The film is a homage to southern gothic tales, which chronicles the ways in which an unsolved murder and the scandal that led to it have affected the citizens of a small southern town decades later. At the start of the film, local debutante Charlotte Hollis plans to run away with her married lover, John (Bruce Dern), only to later discover that he has been murdered. Although no one is ever charged with the crime, the locals suspect Charlotte and she becomes a social pariah. Decades later she has become a recluse and is struggling to keep her family estate, even as the threat of eminent domain looms. Just as it seems as though things cannot get any worse for the tormented Charlotte, a visit from her glamorous cousin (Olivia de Havilland) unearths old family resentments and secrets, which threaten the very fabric of Charlotte's fragile existence. As the story twists and turns, questions arise concerning John's murder and Charlotte's sanity, which propel the film into the suspense of classic horror. The film is a prime example of Davis at her most fierce as she captures the defiance, pride, and anguish that define the character of Charlotte Hollis. While the horror plot is at times outrageous, Davis is always perfectly believable as she shows her character's descent into a world in which not everything is as it seems, and makes audiences root for her even as evidence keeps building for why we shouldn't. Although horror is a genre often maligned for lacking depth and complexity, Davis' performance contains every bit as much nuance and gravitas as any of her earlier roles, and in many ways calls for even more skill. Thanks to her superb performance, even in the midst of an array of thrills and chills the film's core remains its heroine's entirely human struggle for understanding and empathy in the face of social ostracism. For a horror film that truly is a scream, look no further than Hush…Hush, Sweet Charlotte.