Since the advent of film the silver screen has been considered the gold standard for bringing stories both new and old to life. Some stories, however, are too rich in detail and epic in scope to be told in one viewing. For such stories there is a unique medium that combines the production values of film and the flexible scheduling of television; the miniseries. This year, the BBC reclaimed its title as master of the modern mini-series with its production of the Tolstoy classic War and Peace. In the hands of the talented cast and crew War and Peace is a strikingly modern tale of average people caught up in the upheaval of extraordinary times, which still holds power and resonance for viewers in today's conflicted world.
So many suitors and so little time...
The story follows the familiar tale of the beloved novel as five aristocratic families cope with the vast changes that sweep across Russia during the Napoleonic wars. At the tale's start, Prince Andrei Bolkonsky (James Norton) gladly enlists as a way to escape a stifling life of superficiality and aimlessness with a wife he doesn't love. Similarly, Count Nikolai Rostov (Jack Lowden) enlists in pursuit of heroics on the battlefield, leaving his family to cope with their financial struggles. Meanwhile the newly wealthy Count Pierre Bezukhov (Paul Dano) adjusts to a life of privilege and faces a very different battle on the home-front as he strives to find his place in the manipulative world of high society. As war fades into peace only for battle to break out once again, these very different men find their lives and those of their families intersecting in by turns tragic and heartfelt ways as a new era dawns across Europe.
When news of this latest BBC production was released, critics and audiences alike were uneasy, as War and Peace has been adapted into numerous films, plays, musicals, and miniseries in the past with mixed results. While the story contains all of the passion and drama necessary to make it first rate entertainment, the massive scope, historical setting, and spiritual overtones have proved difficult to transfer across various mediums. As a result, some variations managed to capture the epic backdrop only to lose the story's human element, while others focused upon the romance and personal struggles of the characters, but sacrificed the crucial historical context. Fortunately, this latest take on the tale manages to strike an ideal balance between the personal and political, as it successfully relays the tragedies and triumphs of an immense cast of characters in a rapidly changing world.
While the task of telling Tolstoy's over 1100 page tome in just six hours of screen time may seem virtually impossible, the miniseries not only does just that, but does so in such a way as maintain the novel's numerous key points and still keep audiences on the edge of their seats. Over the course of the series, the characters evolve in dramatic and surprising ways, but each character's individual trajectory is handled with a subtlety and nuance that makes their development feel natural. For example, Andrei's gradual progression from haughty aristocrat to battle-scarred soldier to loving friend, brother, and father is a fascinating character arc that is still in line with the basic traits and values that he displays at the beginning of the series. Similarly audiences are treated to witnessing Natasha Rostova (Lily James) grow up before their eyes as she matures from a naïve and vivacious pre-teen to a wiser, but still optimistic, woman in the wake of harsh lessons in life and love and personal tragedy. Perhaps the most drastic and poignant character arc is that of well-meaning, but bumbling, Pierre as he is at first dazzled and then disillusioned by high society and finally embarks upon a spiritual quest to find the meaning of life in a changing world. The journeys of each of these characters and more are relayed with an emotional depth and sensitivity that allows viewers to not only enter the distant world of czarist Russia, but also leaves audiences reluctant to exit that world.
Let the villainy ensue!
While providing a fresh take on such well known characters is no easy task, each member of the massive cast successfully enlivens the series with performances that are at once original and true to the original source material. Stand-out performances abound from the central players to the supporting cast, and even brief roles that leave a lasting impression. Tuppence Middleton is deliciously wicked as femme fatale Helene, and Callum Turner provides her with an apt partner in crime as her debauched brother, Anatole. Aisling Loftus and Jessie Buckley both add nuance and dimension to their roles as the self-sacrificing Sonia and her equally virtuous counterpart and romantic rival Marya. Aneurin Barnard is equal parts charming and calculating as the scheming social climber Boris, leaving little wonder as to how he manipulates the ladies of Russia's upper crust. Tom Burke brings an engrossing charisma to his role as the ruthless Dolokhov, providing viewers with insight into his ability to secure friends in high places despite his often despicable behavior. Jack Lowden brings an endearing boyishness and sincerity to his role as the Rostov's wayward prodigal son, ensuring that audiences continue to root for Nikolai even at his most roguish. James Norton successfully brings the complicated and tormented Andrei to life in a way that makes him both sympathetic and relateable despite his initial aloofness. Lily James is a revelation as she portrays Natasha's kindness and innocence while still imbuing her with the impulsiveness, stubbornness, and ferocity that have made Natasha one of literature's most iconic heroines. Paul Dano provides the series with its heart as the insecure and idealistic Pierre, winning viewers over through his sensitive portrayal of Pierre's journey to find himself even as he is caught in the midst of events he is in no way prepared for.
Family saga, coming of age tale, war story, romance, and historical epic; all of these things and more are contained in the words War and Peace. While the lengthy piece may seem an intimidating tale to take on, this year's BBC version reminds us of the vitality, youthfulness, and passion that have made this complex tale an enduring classic. Through uniformly excellent writing, acting, and design, this latest variation on the familiar tale is a classic adaptation with a modern edge. In the novel, Tolstoy describes Natasha as "not pretty, but full of life" and much like its heroine, War and Peace is a tale that even through its unflinching look at war is sure to embody the beauty and wonder of life for today's viewers as much as it did for yesterday's readers.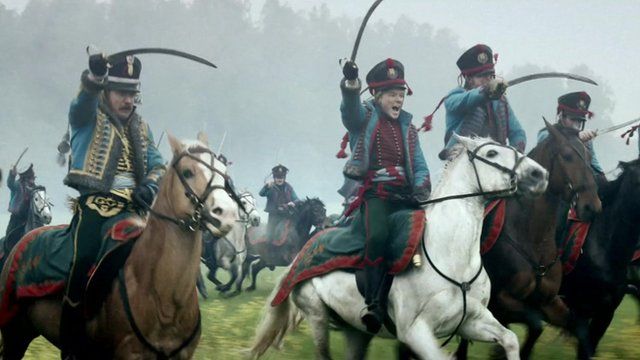 Never bring a sword to a cannon-ball fight