On Saturday, October 24, 2015 Hollywood lost one of its legendary leading ladies with the death of Maureen O'Hara. Born in Dublin, Ireland in 1920, O'Hara arrived in the US after being cast in Charles Laughton's adaptation of The Hunchback of Notre Dame in 1939. Her portrayal of the equal parts tormented and sensual gypsy dancer, Esmeralda, earned the notice of studios and audiences alike and marked the start of a Hollywood career that would last decades. While her flame colored tresses and emerald eyes brought her the nickname 'the queen of technicolor', it was her fiery portrayal of a host of intelligent, no-nonsense, heroines that brought her from the realm of alluring starlet to the much deserved status of leading lady. Here are three of my favorite Maureen O'Hara films that I recommend not only to viewers unfamiliar with O'Hara's work, but also to cinema buffs looking for an inspiring film experience.
Dance, Girl, Dance:
Released just one year after O'Hara's arrival in Hollywood, this film was considered a commercial and critical failure upon its initial release. As the feminist movement of the 1970's took hold, however, the film was re-examined and touted for its themes of female independence and artistic integrity. The film tells a tale of a group of aspiring dancers struggling to make a living on the stage, focusing upon two very different women; brassy stage veteran, Bubbles (Lucille Ball) and naïve newcomer, Judy (O'Hara). As the film progresses, the pair are continually put in competition with one another in their pursuits of both romantic and career success, with Bubbles repeatedly outshining Judy through her willingness to do whatever it takes, with whoever it takes, to get ahead. Although not a classically trained dancer, O'Hara beautifully carries off the ballet, jazz, and hula routines that the script calls for, adding a sense of realism to the film's proceedings. Over the course of the film, she develops the character of Judy from an innocent, but determined, girl to a disillusioned, but self-respecting, woman in such a way that Judy's evolution is a natural progression, rather than a required plot point. While Bubbles, with her constant wisecracking and racy antics, would initially seem the more enticing character to play, O'Hara imbues Judy with a steely resilience and strength of character that endears her to audiences. Similarly, O'Hara succeeds in the difficult task of holding her own against the formidable comedic talents of Lucille Ball. Despite the fact that it debuted in 1940, the film remains startlingly modern with Judy's burlesque hall speech to a heckling audience offering insight into women's roles in entertainment and society at large still which still resonates today. For a dance drama that will get your mind working as well as your toes tapping, look no further than Dance, Girl, Dance.
That best not be heckling I hear...
Miracle on 34th Street:
With a cast featuring Kris Kringle himself, the role of jaded divorcee Doris Walker easily could have been relegated to a background part. In Maureen O'Hara's hands, however, Doris is no humbug, but is instead an entirely believable and relateable character. While the film's main story arc concerns the trial of a beloved department store Santa Claus wrongfully accused of being criminally insane, the film also contains another more poignant, if less flashy, tale of a hardened woman reconnecting with her childhood idealism. At the film's start, Doris is a recently divorced department store manager and devoted mother, whose rigid approach to office management is directly mirrored in her strict home life. Her initial dismissal of both neighbor Fred Gaily (Jeffrey Lynn)'s optimism and Kringle's whimsy make her at first seem a difficult character bordering on unsympathetic. As the story progresses, however, it is revealed that Doris' efforts to instill practicality in her daughter are all part of an attempt to shield Susan from the pain of later disillusionment. Even with this insight into her past, however, the script still threatened to leave Doris a stereotypical scorned woman, but O'Hara's warmth and wit ensures that her character is a multifaceted person rather than a mere plot device or type. Over the course of the film, she develops the role with a nuance and subtlety that makes the drastic change in Doris at the film's finish a logical and hard won metamorphosis rather than the overnight transformation typically found in inspirational tales. While Kringle's exoneration is the miracle usually associated with the film's title, Doris Walker's rediscovery of her lost faith in life and love are equally miraculous, and it is this adult aspect of the script that continues to resonate with audiences long after their belief in St. Nick has faded.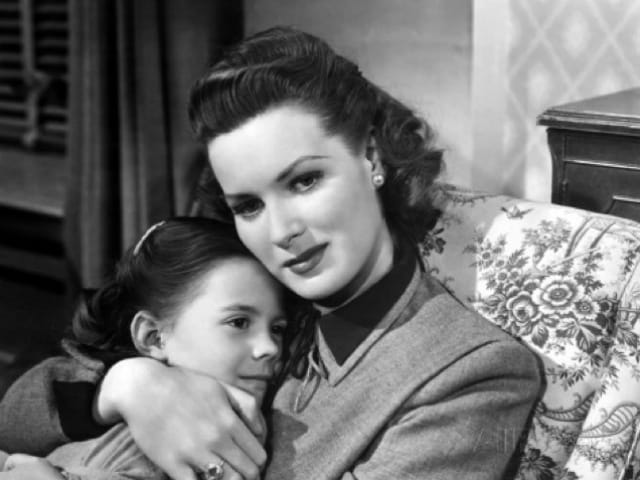 Fine, you can believe in Santa, but the Easter Bunny and Tooth Fairy are off-limits
The Quiet Man:
Despite acting in over sixty films in a career that spanned from the 1930's until the early 2000's, Maureen O'Hara remains best known for a series of films she appeared in opposite western icon John Wayne, in particular their 1952 film The Quiet Man. The film tells a deceptively simple tale of an American boxer connecting with his Irish roots following a devastating accident in the ring. The film begins in a gentle fashion with Wayne's Sean Thorton acclimating himself to life in the Emerald Isle until O'Hara bursts onto the scene in a performance that is nothing short of pure dynamite. In her portrayal of Mary Kate Danaher she is at her most fiery as she by turns brawls with and bewitches Wayne's world weary boxer. It is the complicated relationship between the central couple that provides the fireworks in an otherwise lilting tale of small-town life. While the two are instantly attracted to one another, a land dispute between Sean and Mary Kate's hard drinking brother and Mary Kate's own insistence upon adhering to the arduous traditions of Irish courtship make their romance a hard-earned one.
Throughout the film, chemistry between O'Hara and Wayne lights up the screen, leaving little wonder as to why the two were paired together so often.
Although the role of Mary Kate is one that can be best summarized by stubbornness, pride, and defiance, it is also one that equally called for tenderness and affection; a combination that required the actress playing it to walk a tightrope between the character's extremes. Fortunately for audiences, O'Hara was more than equal to the task and her Mary Kate is fierce without becoming shrewish and loving without ever taking any nonsense from the men in her life; in short she is a lass that the film's hero and audiences alike can't help falling in love with. John Wayne once said of his frequent co-star, "She is a great guy"; as these three films and the many others that she starred in show she was also a truly great actress.