The holidays are a time in which we gather with loved ones to celebrate and give thanks for the blessings in our lives. For many, however, the holidays can serve as a painful reminder of those who can no longer be with us and the moments that can no longer be shared with them. This is also an excellent time of year, however, to make new memories with those who are still part of our lives and those who have only just become part of our world. One film demonstrates the simultaneous sense of nostalgia and hope for a fresh start that the holidays can inspire; the 1949 romantic comedy Holiday Affair.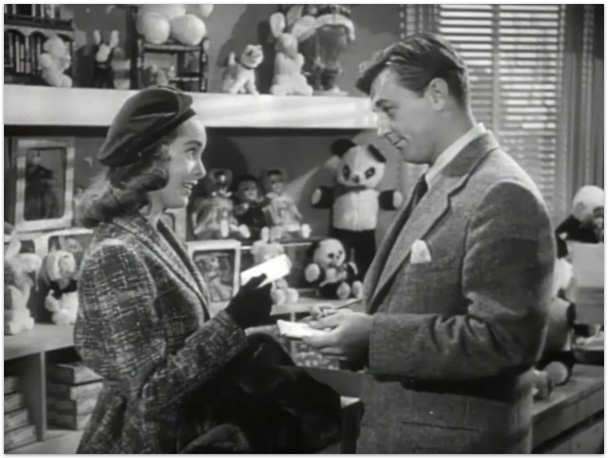 Nothing says I love you like costing someone their job
The story begins with war widow Connie Ennis (Janet Leigh) working as a department store comparison shopper to support her young son, Timmy (Gordon Gebert). As she nears the end of her daily rounds through rival stores, Connie hurriedly purchases an electric train set without asking a single question about the expensive item, prompting clerk Steve Mason (Robert Mitchum) to suspect an ulterior motive for her purchase. When Connie returns the following day to return the train and makes a similarly suspect purchase, Steve approaches her and threatens to expose her as a comparison shopper, which would ultimately result in her being fired. Desperate, she explains her financial situation, and when Steve learns of her efforts to raise Timmy alone after her husband's death he finds that he doesn't have the heart to report her after all. While it saves Connie's job, Steve's deed unfortunately also results in the loss of his own job. When she learns of his predicament she offers to take him out for lunch as an apology, but the two are separated by the shopping crowd as they leave the store. Determined to continue their acquaintance, he tracks her down to her home only to find that she's entertaining her boyfriend, staid lawyer Carl (Wendell Corey). After his first visit Steve learns that Connie has been seeing Carl for a while (despite Timmy's disapproval) but sees him more as a friend and confidante than a boyfriend as she continues to pine for her dead husband. As her acquaintance with Steve develops into a friendship, Connie finds herself in a love quadrangle as she attempts to fend off Carl's demands for a serious relationship, struggles to make sense of her growing feelings for Steve, and begins to come to terms with the loss of her husband. Romantic and comic dilemmas ensue as a bit of holiday magic descends upon the Ennis household just in time for Connie to realize what's been missing from both her life and Timmy's.
The lady and the many men in her life
While the plot is typical romantic comedy fare, the writers approach the subject matter with a simplicity and subtlety that gives the story emotional weight and poignancy. Rather than limit its character to types as many rom-coms and holiday films are apt to do, Holiday Affair instead delves into the real emotions both hopeful and regretful that motivate its characters. Although it would have been easier for the writers to reduce Connie to a cynical stereotype, the film reveals her to be a complex woman who still harbors longings and hopes but is careful to keep those feelings strongly guarded. Similarly, Steve is revealed to have his own demons to wrestle with after serving in World War II and drifting from job to job after giving up his dream of designing boats. Timmy also proves to be a surprisingly well written character who infuses the story with innocence without reducing the script to mere sentimentality. Even Carl, who at first appears to be a portrait of an overcompensating suitor demonstrates complexity in his simultaneous patience with Connie's reluctance and irritation with Timmy's rejection as he continues to hold out hope for a relationship that was over before it began. All of the film's players turn in excellent performances and bring their characters to three-dimensional life with an emotional depth that makes the otherwise predictable plot worth watching. While it could have easily limited the scope of its tale to romantic hijinks and seasonal sentiment, Holiday Affair avoids the trappings typical to its genres and instead tells a multifaceted tale of average people struggling to come to terms with life's difficulties and finding solace in their connections with those around them.
Holiday Affair
is a holiday tale that is equal parts reflective and whimsical. The film's simple message of hope is one that remains relevant over sixty years later and continues to resonate throughout the year. Through its emphasis upon genuine emotion and relatable situations, the film is able to serve as entertainment for children and adults alike and reminds us all of the promise of the season. For a holiday film that will truly please the whole family, look no further than Holiday Affair. Tell me some of your favorite holiday films in the comments!
Who needs step ladder when you've got Robert Mitchum?