Lauren Bacall 1924-2014
On Tuesday, August 12, 2014 1940's actress and icon Lauren Bacall died at age eighty-nine. Over the course of her versatile career Bacall acted in over seventy movies, starred in four Broadway plays, modeled in numerous fashion magazines, and was awarded both two Tony Awards and an honorary Lifetime Achievement Oscar. Today, she is best remembered for the smoky voice and no nonsense attitude that made her a symbol of the resilient American woman of the World War II era. Bacall first burst onto the scene in her star-making role as an equal parts seductive and savvy con artist in the 1944 drama To Have and Have Not opposite her soon to be husband Humphrey Bogart. Following both the success of that film and the co-stars burgeoning romance, Warner Brothers decided to capitalize upon the pair's chemistry and cast them in three more films. One of the most notable of Bacall and Bogart's films was the 1946 crime classic The Big Sleep; in honor of Bacall's life and career, I'll be reviewing this film which features herat her most sharp, slick, and of course sultry.
The story begins with private detective Philip Marlowe (Humphrey Bogart) taking a job for the once formidable, but now retired and sickly General Sternwood (Charles Waldron). Sternwood asks Marlowe to track down a blackmailer who has been harassing his youngest daughter, Carmen (Martha Vickers), for gambling debts that he claims she owes. While the general is aware of his daughter's fondness for playing high stakes, he also suspects that there is something far more substantial and sinister behind the extortion, and hopes that Marlowe can get to the bottom of it. What neither the general nor Marlowe count on, however, is the turn that the case takes when the general's older daughter, smart-talking divorcee Vivian (Lauren Bacall), takes an interest in both the case and the detective working it. As he follows the blackmailer's trail, Marlowe finds himself in the midst of a larger conspiracy that involves four murders, a local pornography ring, a casino managing gangster, and the disappearance of the general's former gun runner protégée. Even in the middle of all the crosses, double-crosses, and revelations that make up the story's notoriously complex plot, the real action lies in the sizzling scenes featuring Bogart and Bacall as their characters match wits and cigarettes in the true noir fashion.
The Big Sleep
contains one of the most fascinating and ultimately dumbfounding plots in the famously confounding genre of film noir. While the story begins with Marlowe tracking pornographer and blackmailer Arthur Geiger, it soon spirals into a series of murders, betrayals, and secrets that reportedly left screenwriters William Faulkner, Leigh Brackett, and Jules Furthmann so dismayed that they had to contact the original novel's author, Raymond Chandler ,to determine who killed the Sternwood's chauffer. The punch-line of the story is that when Chandler tried to answer the screenwriters' question, even he was unable to solve the mystery. Despite its muddled plot, however, the film engages audiences through its combination of sinister atmosphere, razor-sharp dialogue, and hard-boiled action. Over the course of the film's running time, viewers can't help but be caught up in the danger, despair, and excitement that make up Marlowe's Los Angeles. One of the greatest assets of the film is its writing, which brought Chandler's complex tale of lust and greed to life in a way that adhered to its risqué source material but still satisfied the Hay's Code censors. Despite the notorious difficulties that the censors created for filmmakers at this time, the film is in many ways the better for the censors' restrictions, as the main players' many vices remain fittingly shrouded in mystery and any depravity that the characters participate in is left up to the vividness of viewers' imaginations, creating an atmosphere ripe with possibilities. The film also showcases some of the most clever and sexy dialogue in all of cinema, with Bogart and Bacall exchanging some of the spiciest double-entendres since Mae West. With a script that is by turns menacing, sensual, enigmatic, clever, and always morally ambiguous, The Big Sleep is a must see for fans of film noir.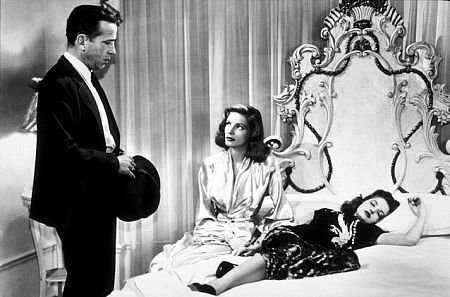 Who would have thought 1946 was so kinky?!
Fortunately for the film's makers, the talented cast creates such engaging performances that the details of the intricate plot quickly become a secondary concern. Humphrey Bogart creates a truly dynamic character in Philip Marlowe by merging his beloved romantic loner persona of such films as Casablanca and To Have and Have Not with the street-wise and hard hitting hoods he began his career playing. Similarly, Lauren Bacall follows-up her star making turn in To Have and Have Not with a similarly witty and tough, but far more dangerous and cunning heroine as Vivian. Martha Vickers provides a stand-out performance in her role as the drug and sex addicted Carmen, capturing both Carmen's adult wantonness and childlike immaturity with equal skill. The film's supporting cast all keep the action moving with a series of striking performances in diverse parts that successfully transport viewers to the seamy underworld of post-war Los Angeles.
The Big Sleep
is just one of the many films in which Lauren Bacall brought a winning combination of intelligence, depth, and sex appeal to a role that, if portrayed by another actress, could have been just one more in a long line of one dimensional parts. In Bacall's capable hands, however, Vivian is a strong, savvy, and independent woman who proves to be just as, if not more, complex than the conspiracy surrounding her family. As movie fans mourn Lauren Bacall's passing, we can take comfort in viewing her films, which remain just as startlingly fresh and modern today as they appeared to audiences upon their original release. If there is a heaven, I imagine that Bacall is there reunited with Bogart, and that together they are setting the heavens aglow with the same sparks that first endeared them to audiences seventy years ago.