What is it that allows some to triumph over tragedy while others succumb to it? How are some able to rise above adverse circumstances while others remain oppressed by them? These questions lie at the heart of the 2005 drama
Memoirs of a Geisha
. Set against the tumultuous backdrop of 20th century Japan the film follows an ordinary girl as she struggles to maneuver the by turns glamorous and treacherous life of a geisha in an era of extraordinary change. Adapted from the 1997 bestselling novel of the same name the film takes viewers on an unforgettable journey into the elusive world of Japan's geishas while relating a timeless tale of resilience and reinvention.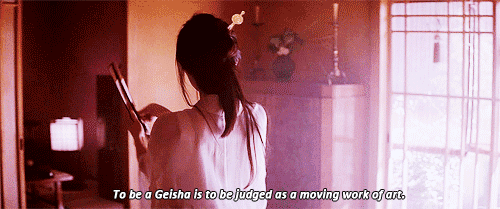 The story begins along the Japanese coast during the 1930's as nine year old Chiyo and her sister, Satsu, tend to their terminally ill mother. While bracing themselves for their mother's impending death, the girls are devastated to learn that their father has sold them in order to pay the family's debts. The siblings are then torn from everything that they've ever known, including each other, as they are taken to Kyoto where older, plainer, Satsu is sent to a brothel while prettier Chiyo enters a geisha house. Although she is spared the sexual abuse that Satsu is forced to endure Chiyo, suffers constant physical and psychological abuse at the geisha house, particularly at the hands of vindictive geisha Hatsumomo. After several failed attempts to reunite with her sister, all seems lost until fate intervenes and Chiyo is transformed into Sayuri, Kyoto's most celebrated geisha. She soon learns, however, that her success is not all that she had hoped for as she finds herself facing the pressures and constraints of life as a geisha. When World War II breaks out she is forced to reinvent herself once again as she struggles to find her voice and make her own way in a drastically changing world.
At first glance,
Memoirs of a Geisha
is a Japanese take on the familiar Cinderella story. As the story unfolds, however, the film evolves into a compelling exploration of resilience and self-discovery. While marketed as an exotic romance, the film's central focus is actually Sayuri's struggle to obtain her elusive goal; not to win a man's affections or earn status as a geisha, but to lead a life that is truly her own. It is this overarching desire that fuels her determination to make the most of the difficulties that life continually places within her path, and motivates her to forge ahead when others might accept defeat. Even when faced with the loss of her fortune, her career, or her loved ones she never loses her sense of self as she stubbornly presses on. Much like Scarlett O'Hara, Sayuri remains standing tall even as the world around her threatens to crumble in the rubble of war and reconstruction. Throughout her training she is told that the work of a geisha is an art. While she may succeed in all of the arts expected of a geisha her true art form is the art of survival as she rises from the devastation surrounding her again and again only to emerge stronger and more determined than when she started. In this way, the story subverts audience expectations by providing its seemingly helpless heroine with an internal transformation that surpasses any make-over a fairy god-mother might provide. As a result, the film defies period piece tropes by relating an empowering and refreshingly modern story of individuality and independence that will resonate in any culture or era.
While the film was subject to controversy due to its casting of several Chinese performers in Japanese roles, the cast bring Arthur Golden's novel to vivid life. Gong Li steals each scene in which she appears as the fiery Hatsumomo, expertly balancing seductive charm, cold cunning, and bitter desperation. Michelle Yeoh resonates warmth and maternal wisdom and makes for an excellent foil to Li's villain in her turn as Sayuri's mentor, celebrated geisha Mameha. Youki Kudoh is by turns endearing and heart breaking in her role as Sayuri's best-friend turned reluctant rival, Pumpkin. Ken Watanabe exudes charm in his role as Sayuri's love interest, while Koji Yakusho lends pathos and world-weariness to his role as her rejected suitor. Even in the midst of excellent supporting performances the film belongs to Suzuka Ohgo and Ziyi Zhang as they infuse their performances with an innocence, intelligence, and determination that brilliantly transfer Golden's complex heroine to the silver screen.
At the film's conclusion Sayuri describes her unconventional happy ending and reminds viewers that "these are not the memoirs of an empress, nor of a queen"; what they are are is something infinitely more moving and fascinating. At once a unique tale of a young woman coming of age in an era of cultural change and a universal story of resilience and redemption
Memoirs of a Geisha
is nothing short of inspiring. Through its intelligent script, enchanting visuals, and engaging performances the film not only transports viewers into the heart of the mysterious world of Japan's geishas, but also brings its alluring inhabitants to vibrant life. During her grueling training to become a geisha Mameha advises Sayuri that "to be a geisha is to be judged as a moving work of art", a task at which this film more than succeeds.
And as a bonus be sure to check out the skating program that inspired this review!