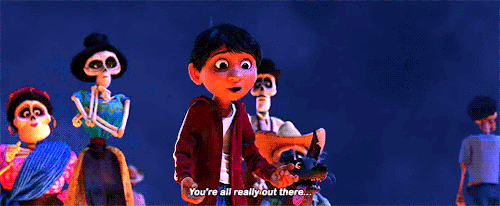 Thanksgiving is a time that has become synonymous with food, festivities, and football. It is a time to gather together and give thanks for those most dear to us and reflect upon those we have lost. In keeping with the spirit of the season there is no better film to kick off Thanksgiving with your family with than 2017's Coco. Set against the vibrant backdrop of Mexico's Day of the Dead celebration, Coco tells a coming of age story about family, remembrance, and music that is guaranteed to get your toes tapping and your eyes welling up.
The story begins with aspiring musician Miguel relating the tale of how his family came to be "the only family in Mexico who hates music". Several generations ago Miguel's musician great great grandfather disappeared, abandoning his family to presumably pursue a musical career. Rather than despair, Miguel's resilient great great grandmother, Mama Imelda, raised her young daughter, Coco, alone and built a successful shoe business that Miguel's family continues to run. Her husband's betrayal left Mama Imelda with a bitter contempt for music that carried down to all of her descendants, except of course for Miguel. Despite his family's prohibition of all things musical, he longs to break with his family's traditions and become a musician, just like his famous idol Ernesto De La Cruz. Family tensions reach a breaking point when Miguel refuses to take his place in the family business and finds a clue that may link his mysterious great great grandfather to De La Cruz. And so begins a journey that will take Miguel to the land of the dead where he meets both his ancestors and his idol and learns the importance of family and the power of music.
For a movie in which half of its characters are dead, Coco is surprisingly life-affirming.

Rather than focusing upon the grief or suffering of death the film instead keeps in the spirit of the Day of the Dead and celebrates the lives and afterlives of its characters. Through its depiction of Miguel's journey to the land of the dead and back again the film assures viewers that death doesn't have to be an ending and that the surest way to keep part of our loved ones alive is to remember and commemorate them. As a result, the film acts as a gentle introduction to the concept of death for young viewers and provides an excellent outlet for coping with loss that viewers of all ages can relate to. Simultaneously, the film's focus upon the afterlife reminds us of just how limited our time on earth is, and of the importance of using what time we do have to devote ourselves to the people and things that matter most. In this way, the story encourages viewers to chase their dreams and passions, while also warning against the dangers of losing sight of our loved ones and responsibilities along the way. The film's emphasis upon such weighty themes as life, death, family, and duty allows it to offer surprisingly adult lessons all while maintaining a warmth, wit, and tenderness that

ensures it remains entirely kid friendly.
Through a combination of dazzling animation, infectious songs, and engaging voice acting
Coco
brings both modern Mexico and the Day of the Dead to brilliant life. the animation marks a new high for Pixar as the lush scenery transports viewers from the streets of Mexico to the land of the dead. Even while surrounded by breathtaking visuals the expressiveness and realism of the character design ensures that the characters remain at center stage. This ode to all things music more than delivers on its score which combines Mexican classics with original songs. The unique score lends authenticity to the setting while propelling the story forward with an infectiousness that is guaranteed to leave viewers humming. The film's array of memorable characters are vividly realized by the talented voice performers with Anthony Gonzalez, Benjamin Bratt, and Gael Garcia Bernal earning particular note in their roles as Miguel, de la Cruz, and Hector.
By turns heart warming and heart breaking,
Coco
is a prime example of family entertainment at its finest. Through its captivating animation, enchanting score, and engaging performances the film casts a spell that is nothing short of cinematic magic. By its final reel
Coco
will have you laughing, singing, and even crying with its characters as it takes you on an epic journey that you are guaranteed to remember.