The late 1990's and early 2000's saw the rise of a unique cinematic trend as Hollywood turned to both the scientific and spiritual. With conspiracy theories surrounding the impending start of a new millennium and new technology all around society began to look both inward and upward as it considered the future that awaited. It was this thirst for all things both futuristic and mystic that led to the release of such films as Vanilla Sky, The Matrix, and What Dreams May Come, among many others. One film that particularly stands out in this niche genre is the 1998 fantasy drama Meet Joe Black, which through its mediations upon life and death, maintains a timelessness that continues to resonate long after Y2K has been reduced to a mere footnote in pop culture.
Leave it to Brad Pitt to make death look dreamy
The story begins with media tycoon Bill Parrish (Anthony Hopkins) preparing for his sixty-fifth birthday. After a glimpse into his wealthy lifestyle, successful business, and happy family life viewers are left with the impression that Bill is a man who truly has it all, until a fateful visit from a stranger who is truly out of this realm. One night a young man arrives at the Parrish mansion and is revealed to be none other than Death himself (Brad Pitt), but rather than fulfill his duty and collect Bill's soul then and there Death offers Bill a proposition that even the shrewd mogul can't refuse. The deal at first appears simple enough; Bill will offer his guest a tour of life as a mortal and in exchange Death will postpone Bill's demise. As Death, renamed Joe Black, becomes acclimated to mortal life, however, he also becomes subject to human emotions as he develops an unusual friendship with Bill and faces temptation in the form of Bill's beautiful physician daughter, Susan (Clarie Forlani). Eventually, Joe and Bill face the unknown together as Joe experiences life in all its complications and wonder for the first time, while Bill simultaneously comes to terms with leaving those same experiences behind.
Although the film's entire premise and central character are built around death, Meet Joe the Black is at its heart a cinematic celebration of life. While a long line of uplifting and inspirational films preceded its release, the film stands apart through its unique approach in examining life from Death's perspective. For new arrival Joe, every day is an adventure into the unknown, as even such simple acts as crossing the street and eating peanut butter inspire child-like wonder in him. As a result, the film reminds audiences of thrills and surprises that we are so often too busy to notice. While Joe's enthusiasm encourages a fresh perspective upon the joys of everyday living, Bill's struggle to come to terms with his inevitable death reminds viewers of just how fleeting and precious those simple moments are. Despite the consistent focus upon life's many highs, however, death literally remains a consistent presence, with Joe serving as a sobering reminder of the inevitable end that awaits all of us. Yet even in its exploration of the characters' attempts to cope with loss the film approaches its subject matter with a sensitivity and optimism that ultimately highlights the value of a life well lived and a death approached with dignity.
A deadly dynamic duo
The film's uniformly superb cast brings the unusual story to life in a way that keeps the largely fantastic plot grounded. Marcia Gay Harden and Jeffrey Tambor lend apt support in their by turns comic and heartfelt performances as Bill's older, extroverted, daughter, Allison, and her inept, but desperate to please husband, Quince. Jake Weber is appropriately smarmy as Susan's boyfriend and Bill's treacherous second-in-command, Drew without ever falling into stock villain caricature. In Clarie Forlani's hands Susan is more than an idealized love interest as she captures the vulnerability beneath Susan's self-sufficient exterior. Even in the midst of these excellent performances, however, the film belongs to Brad Pitt and Anthony Hopkins. Pitt shows he is capable of far more than pretty boy charm as his Joe evolves from socially awkward and almost childlike during his early scenes to a fully fleshed and conflicted character as the film reaches its finish. Similarly Hopkins makes the most of what easily could have been a one-note role as the warm-hearted everyman, and infuses Bill with a pathos that keeps audiences invested in his journey long after we learn what its outcome will be.
A fantasy with real life resonance, Meet Joe Black is a lesson in life and love for every generation. The film's excellent script approaches an infamously dark subject with a light touch and relays a first rate fantasy while still telling an all too human tale. The superb cast breathes fresh life into age old questions concerning life and death and lends depth and poignancy to each performances. Philosophical journey, romantic drama, and fantasy, are just a few of the things you'll find when you Meet Joe Black.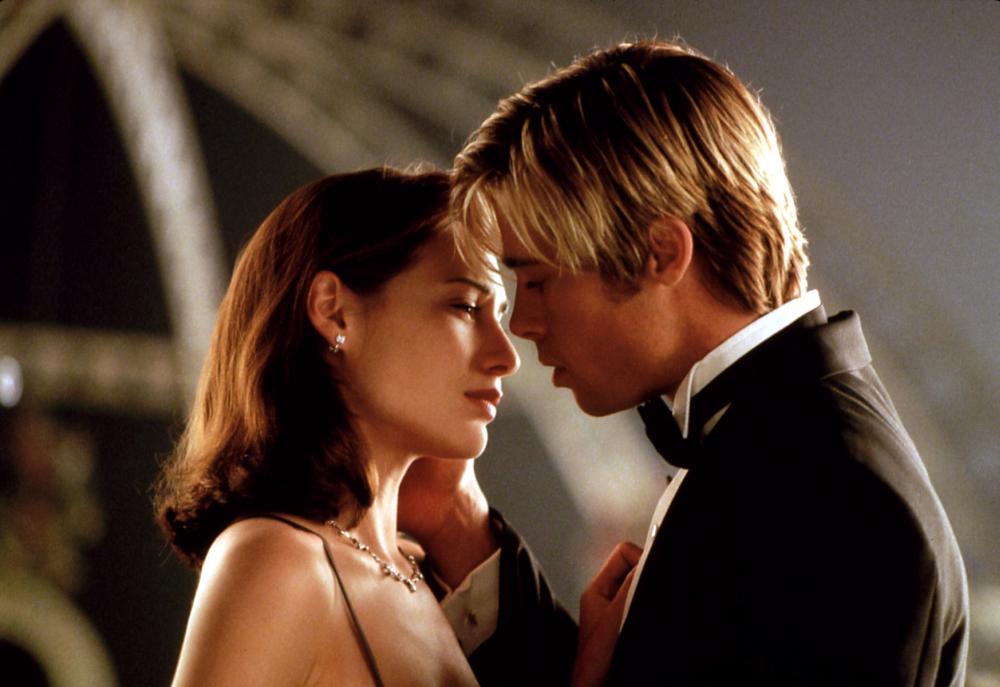 Don't fear the reaper...