Each year, we celebrate motherhood in its many forms and the influence of mother figures upon our lives. While motherhood is truly something to be celebrated, it is impossible for any single film to fully capture the experience of motherhood in all of its complexity, heartache, and fulfillment. This week, I will be featuring three films to honor those most special of ladies in our lives. Please let me know what your favorite mother's day movie is in the comments!
1.
The Joy Luck Club
: Adapted from the best-selling Amy Tan novel of the same name,
The Joy Luck Club
interweaves the stories of four Chinese women in San Francisco as they struggle to raise their American-born daughters. Through its portrayal of the misunderstandings and insecurities that plague the women's relationships, the film expertly captures the contradictions of the immigrant experience. By framing its tales through flashbacks from each character's perspective the film also conveys the complexities of relationships between cultures and generations, as each pair of mothers and daughters strive to understand and relate to one another. Throughout its eight vignettes, the film maintains an uncompromising honesty in its depiction of the ways that families hurt and betray each other, sometimes without even realizing that they are doing so. After years of unfulfilled hopes and unsaid grievances, however, each pair ultimately realizes that although they may not always understand one another there's a lot that they could learn from each other. Through all of the turmoil both personal and political that both generations endure, two things about these women remain unchanging; their resilience and their devotion to their families. At once a cross-cultural period piece and a modern character study,
The Joy Luck Club
is a must see for anyone who grew up thinking they were so different from their parents only to grow up and learn otherwise.
A picture that tells a thousand stories
2.
Two Women
: Released in 1961,
Two Women
was the film that shot Italian starlet Sophia Loren to international stardom. Prior to the film's production, Loren had starred in several Italian films as well as a handful of Hollywood romantic comedies. It was only when she acted against the sexy type that studios had tried to pigeonhole her in, however, that she achieved what was perhaps her greatest cinematic success and became the first actress in a foreign film to win Hollywood's coveted Best Actress Oscar. The film chronicles the efforts of a widowed shopkeeper to shield her pre-teen daughter from the horrors surrounding them in war-torn Italy. After the allies begin bombing Rome, Cesira (Loren), decides to seek refuge in the mountain village she grew up in. Upon reestablishing themselves in the village, however, mother and daughter are confronted with the reality of war once again with the arrival a regiment of Nazis departing the country. The Nazis demand that the village school-teacher (Jean-Paul Belmondo) whom Cesira has begun a romance with and her daughter, Rosetta, (Eleanora Brown) has developed a crush on act as their guide and take him as a prisoner, devastating both women. After she learns that the German occupation of Rome has nearly ended Cesira determines to return home and rebuild her business. This decision proves to be a fateful one as it leads them on a grueling journey that results in the pair being attacked by a group of Moroccan soldiers in one of the most brutal (although not especially graphic) scenes in cinematic history. Although desperation and trauma threaten to shatter their relationship along with their innocence, the two manage to find their way back to each other in time to realize that their greatest strength and solace is in each other. Through its unflinching depiction of World War II and its atrocities,
Two Women
is a compelling argument against war and a powerful testament to the ultimate triumph of the human spirit in the face of adversity, which perfectly captures the sacrifice of a mother's love.
Motherhood: a true balancing act
3. Volver: Made in many ways as a nod to one of director Pedro Almodovar's favorite icons, Two Women star Sophia Loren, Volver is a modern Spanish take on the neorealist films of '50's and '60's Italian cinema. The film begins with sisters Soledad (Lola Duenas) and Raimunda (Penelope Cruz) visiting their ailing aunt where they are told that their aunt's neighbors claim to have been visited by the ghost of their deceased mother. Soledad is shaken by the visit, but working mother Raimunda pays it little mind as she returns home to her unemployed husband, Paco (Antonio de la Torre) and teenage daughter, Paula (Yohana Cobo). The paranormal stir soon becomes the least of Raimunda's worries after Paula stabs Paco to death when he attempts to rape her. As she scrambles to cover up the murder, Raimunda is forced to reflect upon the sexual abuse that led to her estrangement from her own mother, Irene, (Carmen Maura) and the mysterious circumstances surrounding Irene's death. Complications both dramatic and comic ensue as the 'deceased' Irene returns and takes up residence in Soledad's apartment and the sisters' friend and former neighbor, Augustina, turns to a sleazy day-time talk show to investigate Irene's death. While the film's various elements seem incompatible on paper, the story successfully weaves elements of gritty drama, supernatural fantasy, and absurd comedy to compromise a cohesive and endlessly entertaining narrative that is almost as complicated as family life itself. The ensemble cast is uniformly excellent with Cruz earning particular note in her multifaceted role that is both an artistically original performance and an affectionate tribute to the stars of yesterday. Part surreal comedy and part poignant family drama, Volver is a film that defies conventional definition in its telling of a tale that is both entirely unique and universally relateable.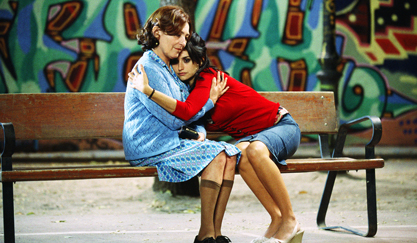 You're never too old to need your mother