1939 is often remembered as the best year in cinema, as during this one year numerous classics including Ninotchka, Stagecoach, Mr. Smith Goes to Washington, and The Wizard of Oz were released. Despite the fine quality of these films, however, one production eclipsed them all; MGM's adaptation of Margaret Mitchell's epic tale of life and love during the American Civil War, Gone With the Wind. It has been seventy five years since iron-willed Scarlett O'Hara first appeared on screen, and in that time her struggle to not only survive, but thrive in a world that has exploded beneath her has only become more mesmerizing. Here are just five of the countless reasons to celebrate seventy-five years of Gone With the Wind in all of its romance, excitement, heartbreak, and ultimately its glory.
1.
CHARACTER DEVELOPMENT: Chronicling twelve years in the life of Scarlett O'Hara against the backdrop of the Civil War and Reconstruction, Gone With the Wind is truly epic in scope. While its four hour running time may seem redundant, the film manages to keep viewers on the edge of their seats through every minute of it. This ability to entertain is largely due to the way in which it accurately portrays the growth and development of each of its characters in response to the turbulent times in which they are living. The most startling changes take place within its central heroine as Scarlett seamlessly evolves from a fiery but sheltered plantation belle, to the embittered but resourceful head of her struggling family, to a successful but ruthless businesswoman. While such drastic changes might have come across as false or forced in another film, the script's writers portray the drastic experiences that mold its characters with such honesty and nuance that Scarlett's transformation is only logical. Similarly, her roguish suitor, Rhett Butler, slowly reveals himself to be far more decent than the gentlemen who scorn him as he risks his life to transport Scarlett and her sister in law, Melanie, out of a burning Atlanta and proves himself to be a far more devoted husband and father than even Scarlett thought him capable of. Even the film's supporting characters face a number of changes as delicate Melanie acquires a quiet strength and dreamy Ashley is finally forced to face reality after returning home from war to a world that no longer has a place for him. Through its portrayal of real people living in all too real hardships, the film ensures that audiences understand and care about each and every member of its massive cast from its opening in the twilight of plantation living to the aftermath of war and occupation.
2.
SIGHTS AND SOUNDS: One of the first things that any viewer will notice when watching Gone With the Wind is the skill with which it was produced. Despite its 1939 release, the film's visual and sound effects remain nothing short of stunning. The sets are rendered with such detail that it is shocking to realize that the rolling fields of Tara, bustling streets of Atlanta, and battered remains of the Civil War were not filmed in Georgia, or anywhere in the south but actually on a series of studio lots. The period costumes are also impeccably accurate and highlight the stark changes in the character's circumstances better than any dialogue could. Scarlett's costumes were such stand-outs that her dresses (a certain curtain comes to mind) remain staples of fashion inspiration and pop culture reference. The dazzling Technicolor that the film was shot in brings the long since vanished world of the Old South to vibrant life, leaving viewers with the sense that they have actually been transported back in time to this critical juncture in history. Max Steiner's lilting score is nothing short of iconic and provides an emotional soundtrack to the film's proceedings. In particular, his "Tara's Theme" remains one of the most recognizable themes to ever come from a cinema speaker through its ability to evoke nostalgia, struggle, and ultimately triumph in its notes.
3.
HISTORICAL SIGNIFICANCE: The success of the film can be measured in as many terms as there are members of its cast. The film won a total of ten Academy Awards with Best Actress and Best Actor Oscars going to stars Vivien Leigh and Clark Gable and the picture earned that most coveted of awards, Best Picture. Hattie McDaniel's Oscar win for her by turns comical and heartfelt portrayal of O'Hara family slave turned devoted family confidant, Mammy, marked the first time that an African American took home the gold statue and began the process of breaking down the racial barriers that dominated Hollywood. Even after seventy-five years of passing trends and new blockbusters, the film maintains the title of all time highest ticket sales and top grossing film of all time when adjusted for inflation, a fact that is particularly daunting when considering the limits of marketing campaigns and consumer resources during the Great Depression.
4.
REALISTIC ROMANCE: One of the most memorable aspects of the film is the timelessness of the romance between Scarlett and Rhett. While many films idealize romance as a pure thing that effortlessly conquers all, Gone With the Wind reminded its audience of the complexity and brutality that love all too often encompasses. Rather than coming together through a convenient meeting and instant attraction, these startlingly modern lovers fight, struggle, and endure their way to love. The early banter between the two reveals that each is more intelligent and complex than they present themselves as to the outside world, and more importantly that each is able to see those qualities in the other. Despite her two previous marriages and his many amorous exploits, neither can fully be themselves except when they are together. It is only in Rhett's presence that Scarlett is able to show both the vulnerability that she is careful to hide and the shrewdness that society forbids 'decent' women. Similarly, it is only with Scarlett that Rhett is willing to put aside his cynical persona and reveal his true sentiments. While there is no denying the attraction between them, however, neither Scarlett nor Rhett is able to let down their guard long enough to reveal the true extent of their feelings to each other. Although their vicious cycle of each wanting the other but lashing out instead of showing it can be frustrating, it is also incredibly realistic. In movies and books love triumphs, but in life it is only as strong as the people who feel it and their courage to reveal it. In real life people feel fear, insecurity, and pride just as strongly if not more so than love, and it is all too often those feelings that drive our actions. Even after, or perhaps because, they have survived war, occupation, poverty, and personal loss, Rhett and Scarlett are too frightened of the possibility of rejection to allow themselves to come to terms with the acceptance that is actually right in front of them. While it might not be the stuff that dreams are made of Scarlett and Rhett's romance is one that is based more in reality than such romantic favorites as Titanic, The Notebook, or even Casablanca.
5.
MORE THAN JUST A LOVE STORY: Despite the enduring power of the tragic love between its leads, Gone With the Wind is far more than a mere love story. Instead, it is the story of a place and its people; of those who go under when the world around them collapses and those who press on at any cost. The story relates more than the struggles of Scarlett O'Hara, although that alone would have made enough for a best-selling novel. Through Scarlett's devastating lows and soaring highs viewers are witness to the leisure and hypocrisy of life in the Old South, the devastation of the Civil War both on and off the battle field, and the deprivations of Reconstruction. Following the novel's release, it became a coveted, and often illegal, best-seller in Nazi occupied Europe and later in Soviet controlled Eastern Europe, war-torn Vietnam, and finally presently oppressed North Korea. As diverse as those societies seem, they all have two things in common; they have known the horrors of oppression in one form or another and their people still refuse to give up on hope for another day. It ultimately this same universality and timelessness that has made Gone With the Wind one of the most iconic and successful films world-wide. Coming of age tale, war story, family saga, historical epic, and so much more are encompassed in the four syllables Gone With the Wind.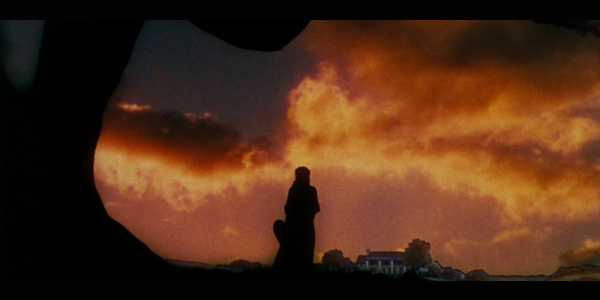 After all tomorrow is another day!