Now we know why she always looked so bored
"Glamour girl by day, revolutionary scientist by night" sounds like the sort of description reserved for a Bond-girl or a character in a particularly ridiculous romantic comedy. In actuality, the description would make an excellent and entirely accurate tagline for the story of 30's and 40's cinema icon Hedy Lamarr. Stifled by the gender restrictions of her day, Lamarr used the profits from her ditzy screen persona to pursue personal fulfillment in the form of scientific research and technological inventions. While she is best remembered for her truly exquisite appearance and several light-weight performances, it is the efforts of her beautiful mind that have left the deepest impact upon modern society.
Lamarr was born Hedwig Eva Maria Keisler on November 9, 1914 in Vienna Austria, to banker Emil Keisler and pianist Gertrud Keisler. She grew up with a largely uneventful and comfortable childhood, and went on to study acting under renowned director Max Reinhardt in her teens. In 1933, she attained her breakout screen role as a neglected young wife who finds fulfillment in a heated affair in the controversial art house film Extase. Although the plot was slight, the film went on to become a notorious hit, largely due to Lamarr's nudity during a skinny dipping scene and close-ups of her face in what would today be considered a tame sex scene. Following the film's release, she embarked upon what would later prove to be a disastrous marriage to her first husband, munitions dealer Fritz Mandl. In her biography, Lamarr describes Mandl as controlling and recounts how he attempted to seize all existing copies of Extase in order to prevent any viewers from seeing her risqué performance. According to her account, Mandl was more than a mere arms manufacturer and actually possessed close financial ties with dictators Adolf Hitler and Benito Mussolini, who had attended several parties at the couple's castle home. During the couple's regular social gatherings, Mandl would often discuss business with his fascist associates who were very much interested in ways to improve upon and implement military technology. Unbeknownst to Mandl, Lamarr paid great attention to these discussions and used them as the basis for her knowledge of applied science. Eventually, Mandl's fascist support became too much for the Jewish Lamarr to bear and she escaped to France. Her method of escape remains up for debate to this day, with one version stating that she drugged her maid and stole the girl's uniform to disguise herself, and another saying that she hid in a brothel where she worked as an escort until she had saved up enough money to secure passage out of Austria. In either case, the trip proved to be a fateful one, as she began an acquaintance with studio mogul Louis B. Meyer in Paris, marking the start of her second life as a Hollywood screen siren.
Upon arriving in the United States, Meyer rechristened her with the stage name 'Hedy Lamarr' (a combination of her nickname and the last name of silent star Barbara La Marr) and ordered that she undergo the required studio makeover, which primarily consisted of a regimented diet. She later met and made a strong impression on leading man Charles Boyer while at a Hollywood party. Boyer reportedly took one look at Lamarr from behind and determined that she "must be a beautiful woman" even though he had yet to see her face. He quickly began a conversation with the still unknown starlet and demanded that she be cast in his new film, Algiers. The film was released as Lamarr's first American feature in 1938 and received rave reviews from both critics and audiences. Although she had minimal screen time in the film, her role as a jewel thief's kept-woman love interest nearly won her the strikingly similar role of Ilsa Lund in Casablanca four years later before a scheduling conflict led to the casting of Ingrid Bergman. She went on to star in a series of successful films for the remainder of the 1930's into the 1940's in which she acted alongside such legendary stars as Clark Gable, Spencer Tracy, John Garfield, Lana Turner, and Judy Garland. Despite her success, she was unfortunately often relegated to parts that emphasized glamour over substance and failed to utilize her acting talent. As a result, she often found herself bored while working long hours on films that required little artistic effort and returned to her other creative outlet; applied science. During the lengthy breaks between scenes, she would lock herself in her trailer and create blueprints and outlines for various inventions. While other stars occupied themselves by chatting with their costars or other, trivial, pursuits, Lamarr used the free time to create, amongst other inventions, improved traffic signals, a fluorescent dog collar, a redesigned Kleenex box, and modifications to the Concorde jet.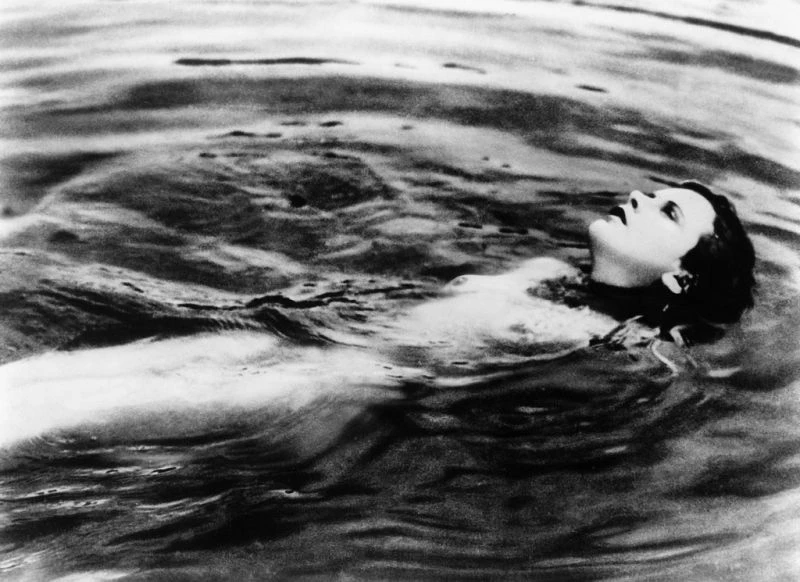 The days when it was still shocking to strip on camera
By far the most substantial of her inventions was the Frequency Hopping spectrum. Lamarr's Austrian-Jewish heritage made the World War II Allied cause particularly close to her heart, and led her to dedicate herself to finding a way to aid the war effort. During and prior to World War II, torpedoes were controlled by radio signals that were prone to being jammed by broadcasting inteference. The widespread use of radios in the 1940's caused consistent signal interference that limited the accuracy and efficiency of torpedoes.

In the early 1940's, Lamarr began a friendship with her neighbor, avant-garde artist George Antheil, who was working with a series of experimental instruments, including a set of synchronized player pianos. While observing Antheil's pianos, she noted how their programming caused each piano to 'hop' from one note to another in unison and began to wonder why radio signals couldn't do the same. She theorized that synchronizing radio signals to jump from one frequency to another would make it much more difficult for the Axis to pinpoint the signal's location and jam it with broadcast interference. After countless hours of work, Lamarr and Anthiel completed their invention and brought it before US naval intelligence. Despite the fact that the invention would have served its purpose and prevented the enemy from detecting torpedo signals, military experts rejected it. Adding insult to injury, the navy told Lamarr that the best way for her to serve the cause was by using her looks and celebrity status to sell war bonds. The device was not implemented until the Cuban Missile Crisis in 1962, and by that time Lamarr and Anthiel had unfortunately let their patent expire. Frequency Hopping went on to become the basis for Spread-Spectrum Communication technology, which is utilized today in Blue Tooths, GPS systems, internet WiFi, and the majority of modern military technology. Lamarr finally received recognition for her work when she received the 1997 Electronic Frontier Foundation's Pioneers Award, but Anthiel had unfortunately died nearly forty years earlier in 1959.
Despite Lamarr's scientific and cinematic success, her personal life was rife with complications. Following her marriage to Mandl, she was married five more times, with each marriage ending in divorce. She adopted son James Markey with her second husband, Gene Markey, and gave birth to another son, Anthony Loder, and a daughter, Denise Loder during her marriage to her third husband, John Loder. By the 1950's, her career began to decline as younger stars were cast in the ingénue roles that she had been restricted to for so many years. Over time, she spent her considerable fortune and was arrested on charges of shoplifting in 1966 and 1991. She also sued director Mel Brooks in 1974 for invasion of privacy (for unauthorized use of her name) after he named the male villain in Blazing Saddles 'Hedley Lamarr'. The case was eventually settled out of court and the character's name remained intact. She filed a similar lawsuit against CorelDRAW Software after they used a Corel-drawn image of her as a cover design without her permission in 1996. Corel argued that Lamarr did not own the image, and that case was also settled out of court in 1998. As her star began to fade, she regarded her career bitterly saying, "The ladder of success in Hollywood is usually agent, actor, director, producer, leading man. And you are a star if you sleep with them in that order. Crude but true". She also dismissed her glamorous persona and resented the fact that it was her looks rather than her intelligence that she was best remembered for, saying, "Any girl can be glamorous. All you have to do is stand still and look stupid". After becoming increasingly reclusive starting in the 1960's, she died of heart failure at age 85 on January 19, 2000 at her home in Cassleberry, Florida.
It is often said that one cannot judge a book by its cover; a statement that Hedy Lamarr's story undoubtedly personifies. While dismissed even at the height of her popularity as a 'dime a dozen' starlet, she was far more interesting and complicated than the pretty faces that she was surrounded by in Hollywood. By using her intellectual gifts, she was able to defy the constraints of her era and create a truly innovative invention that has shaped modern technology as we know it.

Next time you use your Bluetooth, GPS, or cellphone, I hope you take a second to think of Hedy Lamarr, a woman who was truly ahead of her time.
An inventor in her unnatural habitat; a film studio