Anybody got a match?
"You know how to whistle, don't you?" Lauren Bacall asked as she captured the attention of both co-star Humphrey Bogart and audiences across America in her screen debut in To Have and Have Not. With her sultry stare, smoky voice, and insolent wit Bacall proved to be an ideal match for legendary tough guy Bogart both on and off screen. The interaction between the film's stars elevated the story beyond its beginnings as a war time melodrama to a more relatable tale of ordinary people coping with extraordinary circumstances. To Have and Have Not proved to be a critical and commercial success through its combination of intrigue, humor, and camaraderie. The film also became the stuff of Hollywood legend by launching the career of then nineteen year old Bacall and her famous romance with Bogart.
The film begins as Bogart's Captain Harry Morgan is renting out his boat in occupied Martinique to American tourist Mr. Johnson (Walter Sande). As they reach shore, Morgan requests payment for his services, but Johnson hesitates before promising to pay Morgan in the morning. Morgan begrudgingly agrees to wait for his payment and accompanies Johnson back to his hotel. Once at the hotel, Morgan is approached by proprietor and Free French resistance fighter Gerard, better known as Frenchy (Marcel Dalio). Frenchy begs Morgan to let his fellow resistance fighters use Morgan's boat to transport a pair of fugitives on the run from the Nazis. Despite Frenchy's pleas and offers of ample compensation, Morgan flatly refuses saying it would be too much of a risk. While trying to avoid Frenchy and his associates, Morgan befriends runaway and pickpocket Marie "Slim" Browning after catching her stealing Johnson's wallet. Before Morgan can collect his money, however, a drive by shooting occurs at the hotel and both he and Slim are taken in for questioning by the local authorities. After the Vichy controlled police rough up Slim during her interrogation, Morgan decides to take action and agrees to rent his boat to the resistance free of charge. The plot then moves into several twists and turns as Morgan tries to outsmart the Nazis while fighting his growing attraction to Slim. As in Casablanca, the ultimate conflict at the core of To Have and Have Not is the struggle within Bogart's world weary cynic between his desire for the safety of neutrality and his need to risk it all for the greater good.
Despite its similarities to other Warner Brothers' pictures of the era, To Have and Have Not actually has an extensive literary pedigree. The concept for the film was first conceived when director Howard Hawks boasted to famed writer Ernest Hemingway that he could make any book into a hit film. Hawks then called his own bluff and made a bet with Hemingway that he could make a smash hit out of Hemingway's 'worst novel'; To Have and Have Not. Hawks then enlisted the help of screenwriter Jules Furthman and literary icon William Faulkner to adapt the novel into a workable script. Although Hawks technically won the bet, he was only able to do so by drastically changing the plot to capitalize on war time patriotism, and extensively borrowing from Warner Brothers' earlier hit, Casablanca. The combination of plot devices, international locales, and cast members carried over from Casablanca initially make To Have and Have Not appear to be Casablanca-lite. Upon closer observation, however, it becomes apparent that the film has its own unique flavor and is capable of standing upon its own merits.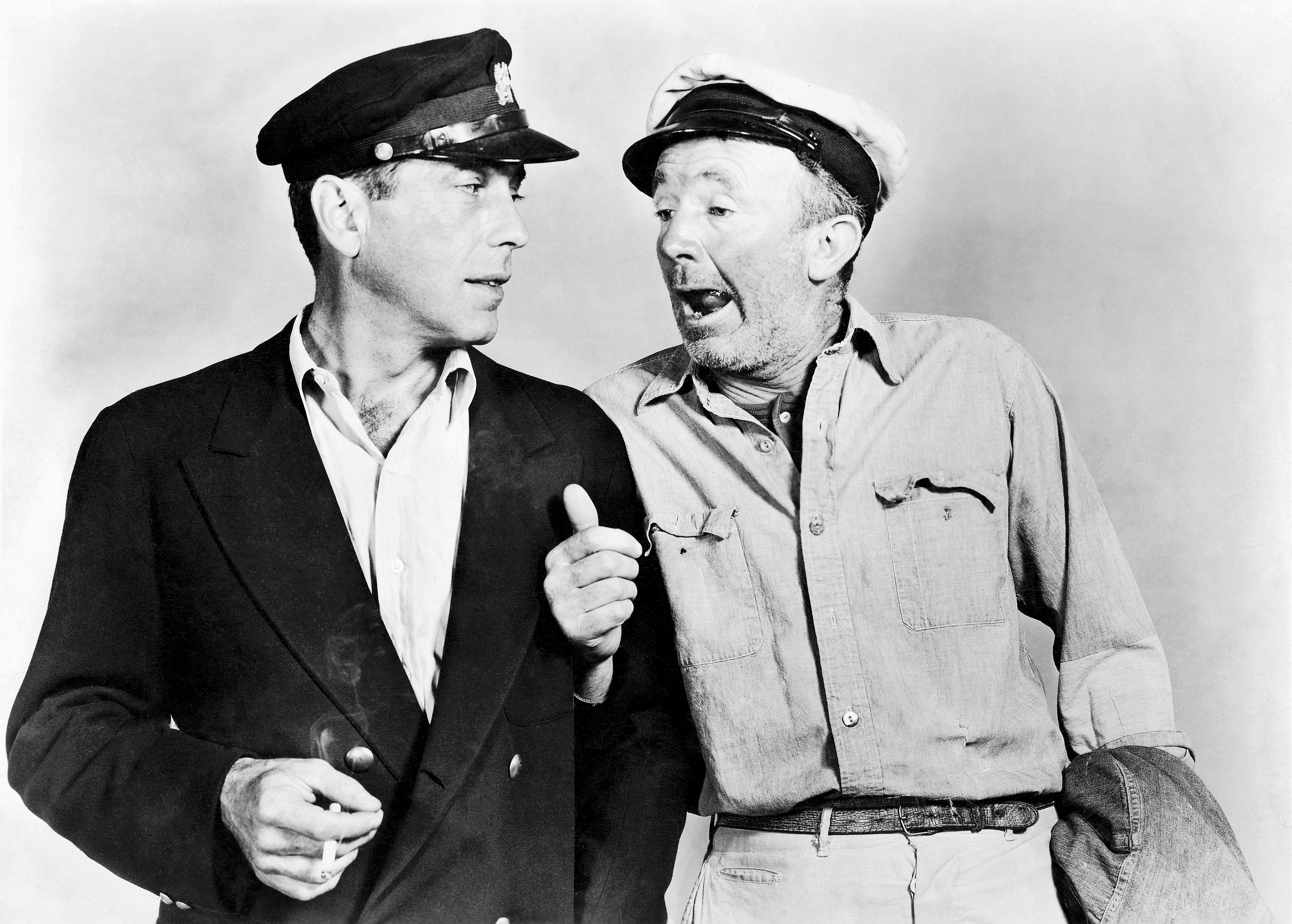 Who's taking care of who?!
One of the biggest draws of the film is the interaction between its ensemble cast. Each scene between Bogart and Bacall sizzles with sensuality in a way that few post-Hay's Code films could. The most striking aspect of their scenes is the way in which the characters play off of each other and build upon their mutual understanding. The scenes between Morgan and Slim were in fact so convincing that Hawks was forced to rewrite the script so that Morgan could have a happy ending with the brassy thief, rather than the originally planned bittersweet romance with a French resistance fighter. After watching the crackling chemistry between Bogart and Bacall, it is little wonder that the studio went on to cast the pair in three more collaborations.
The interaction between Bogart's cool cynic and the colorful characters that he encounters are almost as engaging as those between him and Bacall. Walter Brennan's performance as Morgan's alcoholic first mate, Eddy, is by turns both humorous and heartfelt. Throughout the film, Eddy tags along on Morgan's adventures in an effort to look out for his friend, all the while unaware that he's the one who requires looking after. Brennan's portrayal of the bumbling Eddy helps make the friendship between Eddy and Morgan believable, which in turn highlights Morgan's hidden softer side. Similarly, Dolores Moran's performance as the willful resistance member Madame De Bursac provides an excellent counterpoint to Morgan and Slim's world weary skepticism. In keeping with the Casablanca tradition, Hoagey Carmichael's bluesy piano player provides extra zest with musical and comic relief. Even the villains have their moments to shine, particularly Dan Seymour in his sarcastic portrayal of Vichy official Captain Renard.
To Have and Have Not
was a crucial turning point in the lives of Humphrey Bogart and Lauren Bacall. Prior to being cast as Slim, Bacall had worked as a model and actress in minor theatrical roles. When one of Bacall's modeling photos appeared in an issue of Harper's Bazaar, Hawks' wife took notice and convinced him to arrange a screen test. Despite her lack of film experience, Bacall won the role which would become the defining moment of her career. She soon attracted the attentions of both her director and co-star, despite the fact that both men were already married. Tensions rose on the set as Bacall spurned Hawks' advances and eventually began a romance with Bogart, who was separated from his third wife, actress Mayo Methot. Hawks retaliated by embarking upon an affair with Moran, while Bogart and Bacall pursued what would become one of the most storied relationships in Hollywood. The two were married in 1945, and the marriage lasted until his death of esophageal cancer in 1957. The pair would go on to star in three more pictures together including Hawks' classic detective noir The Big Sleep.
To Have and Have Not is a film that remains as entertaining today as on the day of its release in 1944. The film's combination of excellent performances, interesting characters, and razor sharp dialogue make it a must see for fans of intrigue and old fashioned adventure. For many, there never was and never will be an on screen pairing quite as steamy as that of Humphrey Bogart and Lauren Bacall, regardless of production code restrictions. To top it all off, the film even includes an unforgettable lesson in how to whistle.
The usual suspects