Confessions of a Film Junkie: Debates "Hostel vs. Taken"
A Joint Review by Brian Cotnoir & Lauren Ennis
For Whatever reason many people throughout the world have grown to resent Americans. Why? I couldn't tell you, but it is because of this resentment that travel outside the U.S. is very dangerous for most Americans; especially young Americans. There are two iconic films that deal with the subject of young Americans in Europe who are being attacked by hostile natives: "Hostel" and "Taken". Even though they have similar plots they do have some distinctive differences that help them stand out, and today Miss-E and I are going to debate which film is better.
Hostel
(By Brian Cotnoir)
"Hostel" tells the story of 2 Yong Americans, named Paxton and Josh, traveling across Europe on trip of fun, debauchery, and self-discovery. Paxton and Josh (along with their friend Olli from Iceland) wind up in Amsterdam expecting a world of nothing, but pot smoking and sex crazed locals, only to be disappointed to realize that Amsterdam is totally overrun with American tourists, and they want to get away from them. They meet a European teen, who tells them that they have to go to Slovakia where the hostels there are crawling with young, horny, sex-crazed women who love American guys. The three friends decide to take a train to Slovakia and after some skeptical uncertainty they arrive at the hostel to discover that it is everything the young man back in Amsterdam promised them it would be.
However after all the binge drinking and promiscuous sex, one of the friends Paxton (played by actor Jay Hernandez) notices that his friends Olli and Josh have disappeared. He asks the locals if they've seen his friends only to be told that they went home or they left. However Paxton doesn't believe his friends would just leave without telling him. After some sleuthing and persistent questioning of the locals Paxton learns that he and his friends have been sold in an on-line auction by a group called The Elite Hunting Group. The Elite Hunting Group offers people the chance to live out their homicidal and torture fantasies for a high-price, and they always get Top Dollar from people for Americans. Paxton learns that his friends have endured horrendous deaths and now he is next.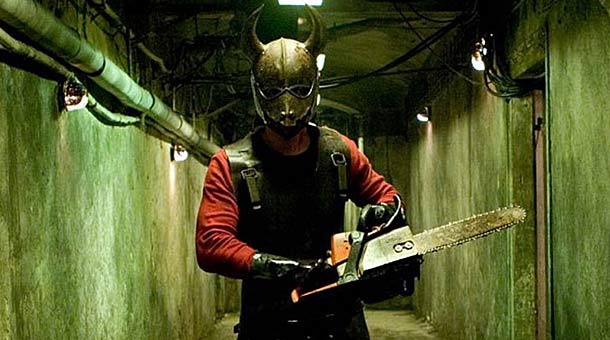 So the characters in "Hostel" aren't the most heroic or even likable, but they still have to endure some pretty horrifying things even for a bunch of douchebags. All they wanted to do was have a good time and have sex with lots of beautiful women. That is something every guy in life wants. Now I once had a discussion with a friend of mine and she said "'Hostel' [was] scary, but totally unrealistic [because] who would every pay just torture someone?" to which I replied "I'm pretty sure if you gave me a baseball bat, and placed a child molester in front of me, I'm pretty sure I could make myself do some things I didn't think I was capable of doing". They Agreed. Now while I can admit that being kidnapped and sold into the sex trade is not a better outcome, I still maintain my belief that being sold to be tortured to death is a much more gruesome fate. Plus, who's going to rescue those boys? Let's be honest; the first time everybody saw the trailer for the movie "Taken" we all knew that Liam Neeson was going to save his daughter and do it in the most kick a$$ fashion imaginable. As for Paxton, Josh, and Olli, they only had themselves to rely on. None of their parents were going to come to their rescue (hell, I don't even think they knew where in Europe they were). The only one who managed to get escape with his life was Paxton, and he did it with almost no help from anyone (and trust me: there was no happy ending for Paxton, as made evident by the intro to "Hostel 2").
The reasons why I feel that "Hostel" is a scarier movie than "Taken".
Unlike Hostel, which focuses upon the physical tortures that an unsuspecting group of tourists endure, Taken's focus is instead upon its protagonist's emotional anguish. Like Hostel, Taken involves young Americans who are abducted while on vacation in Europe, but rather than chronicle the horrors that the girls endure at the hands of their captors, the story is told from the perspective of one of the girls' father as he struggles to find and free his daughter. While both films highlight the dangers that we expose ourselves to when in an unfamiliar place, Taken's greatest punches are packed not by its many thrilling action scenes, but by the raw emotion at the core of its story. Through its honest portrayal of a parent in crisis, Taken reveals the fears that lie within all us of us and the lengths to which we will go when the people we love are put into jeopardy.
The story begins with former CIA agent turned private bodyguard Bryan Mills (Liam Neeson) struggling to rebuild his relationship with his estranged teenage daughter, Kim (Maggie Grace ). When he learns that Kim and her friend, Amanda (Katie Cassidy), are planning a trip to Paris he is strongly opposed to the idea but eventually agrees to let her go after being pressured by his ex-wife (Famke Janssen). As he sees Kim off at the airport, however, he learns that the girls are actually planning a cross-continental trip following U2's European tour, rather than the agreed upon stay with Amanda's cousins. Despite his misgivings, Brian decides that it is too late to stop the girls' plans and sends Kim off with a loving warning to be careful. Almost as soon as the girls land, however, they form a fast friendship with local boy Peter (Nicolas Giraud) and give him the address of the apartment they're staying in after he invites them to a party. The seemingly harmless acquaintance quickly turns sinister when the girls arrive at the apartment only to find that Amanda's cousins are in Spain and several men, using Peter's tip, infiltrate the apartment and abduct first Amanda and then Kim. Fortunately, before she is kidnapped, Kim makes a call to Bryan relaying her plight and providing him with a description of her abductor. With only Kim's few words to follow and a "specific set of skills" to aid him, Bryan sets out on a journey through the Parisian underworld to bring his daughter home and take vengeance on her captors.
Despite its status as an action film, Taken highlights a devastating reality and approaches the topic of sex trafficking with the seriousness that it deserves. Over the course of Bryan's journey, the film depicts the various networks of organized crime and political corruption that run and maintain the vast and lucrative trafficking business. As he delves deeper into the mystery of his daughter's disappearance he quickly learns how the industry thrives on a combination of greed, societal indifference, and fear. The film deftly shows the maze of networks that make up the trafficking industry, which leaves viewers with little doubt as to how easily its victims can disappear in broad daylight. When he finally gains access to the city's underground brothels he is horrified to learn how the girls are psychologically and physically abused until they finally break, and are then provided with access to drugs under the guise of allowing them an outlet, which in reality puts them further under their captors' control. The moment that Bryan finds Amanda dead of an apparent drug overdose is truly chilling in the way that it shows the desperate lengths that trafficking victims will go to in order to escape (at least temporarily) the pain of their existence and echoes the influence of heroin and other drugs in the midst of today's opiate epidemic. Through its bleak depiction of the inner depths of the sex trade Taken delivers horrors of an all too real variety that will have you thinking twice before you book your next vacation.
While the film contains the familiar action flick elements of death-defying stunts, sadistic villains, and constant plot twists, at its heart Taken remains a tale of a man trying to hold onto his family. When the film first starts, Bryan has retired from the CIA, despite his exemplary career record and the agency's continued demand for his skills, in an effort to lead a more stable, family-driven life. He then makes time to visit his daughter, even though it means facing remaining bitterness from his ex-wife and awkward interactions with her new husband. Through the film's early scenes, audiences are able to gain insight into Bryan's struggle to hold onto what remains of his family, while still leading the violent life that his career demands. As a result, his journey to rescue Kim can be seen as a metaphor for trying to reconnect with her before she reaches adulthood and is emotionally lost to him. Viewed from this perspective, Taken becomes more than a somewhat relatable action film, and is elevated to a universal tale of the need for family connection in an increasingly disconnected world. Therefore, Bryan's fears of losing Kim both literally in the sense that she could disappear into the international sex trade and figuratively in the sense that his time to be part of her youth is running out are equally terrifying and relevant.
Through its combination of action-packed thrills, emotional depth, and chills torn straight from the headlines, Taken is a film that will maintain a hold on viewers even after they leave the theater. The film works equally well as an entertaining thriller, heart-wrenching family drama, and exploration of the modern black market. When I was first approached with writing this review, the Film Junkie asked, "What's more terrifying, being kidnapped in Europe and sold to be tortured to death or being kidnapped in Europe and sold as a sex slave". That is a question that still remains uncomfortable and difficult to answer, but I can answer that the anguish that Bryan withstands in Taken is truly the stuff of every parent's nightmare that will undoubtedly leave any parents in the audience nothing short of haunted.