Confessions of a Film Junkie: Film Junkie's 5 Favorite Films: Vampires
Two Octobers ago, I did "Vampire Movie Month" here on Confessions of a Film Junkie. So I decided I'd do a little bit of a follow up. I've always had a fascination with vampires ever since I was a young child: I just found them to be mysterious and awesome, and I had a lot of Vampire books, and movies, and comics, and I wrote short stories about Vampires in my spare time. There was a time when Vampires were the coolest and most important thing in my life...Then I went to College and Stephanie Meyer's book Twilight became super popular and it spawned a film franchise, and quickly saw the thing I enjoyed the most be destroyed and degraded...so I moved away from vampires after that, and switched to zombies because the mere mention of vampire from Twilight or True Blood would send me into a blinding nerd rage, but that fad is done and played out so I feel like I can openly say I love vampires again without someone asking a stupid follow-up question. So I am here today to countdown my 5 Favorite Vampire Films. Just keep in mind these aren't what I consider to be the 5 Best Vampire Films of All-Time; this is just my 5 personal favorite films involving vampires. Enjoy.
5.) Bram Stoker's Dracula
Academy Award Winning Director Francis Ford Coppola gave Dracula a much needed film reboot in 1992; 60 years after the original film adaptation of Dracula. The film featured massive sets, top notch costuming, and an all-star cast including Gary Oldman, Sir Anthony Hopkins, Keanu Reeves, Tom Waits and Winona Ryder. This was actually the first vampire film I ever saw...I was 10. I think somehow or another, my older sister and I convinced our mother to rent this for us. This is still my favorite adaptation of Bram Stoker's novel. I like the casting and especially the music of Wojciech Kilar, which just takes the dark and gothic atmosphere of the film to the next level. It is just a great film.
4.) Thirst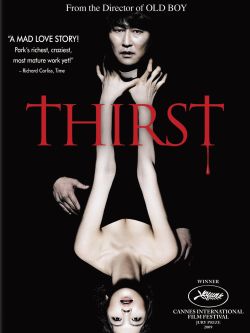 "
Thirst
" was one of the four films I reviewed in my Vampire Movie Month, 2 years ago.
It's a foreign film and it is the story of a Catholic Priest who gets turned into a vampire through a botched medical experiment.
The film follows him as he tries to adjust as to his new life as a vampire and the story of how he fell in love with a wife of a childhood friend and how he transformed her into a vampire.
"Thirst" was the creation of famed South Korean director Park Chan-wook who also directed "
Oldboy
", and he does an amazing job of giving us humorous and interesting characters and making the stories seem as realistic and possible.
That's one thing "
Thirst
" has going for it: it's pretty realistic.
I honestly do believe that if Vampirism was an actual disease than "Thirst" would be the most accurate portrayal of that lifestyle change.
I will admit that this is a long film to sit through, and I honestly think that Park Chan-wook could've stretched this film into two films: I'd have the Priest discovering his newfound vampirism in the first film and the second film would show him and him and his new vampire bride living their day-to-day life.
I highly recommend that you check out "
Thirst
" if you've never seen it.
3.) Let the Right One In
Another Excellent Foreign Vampire-Horror film is the 2008 Swedish film "Let The Right One In". Based on a novel of the same name it is the story of a young Boy named Oskar who befriends a mysterious girl named Eli. The two become close friends, but there friendship is really put to the test when Oskar finds out Eli is actually a vampire. I've been a fan of this film since the first time I saw it, and I became an even bigger fan of the film after I read the novel, however, I do not share the same feelings for the Americanized version "Let Me In". It's not just a great vampire film, but it also has a nice-innocent love story. I actually bust this film out around Valentine's Day, and I think I've convinced a few people to do the same; kind of a nice Holiday-Vampire Film Watching Tradition.
2.) Stake Land
Now this is a bad a$$ vampire film! It has everything action, adventure, horror, drama, kick a$$ characters, and of course vampires! I reviewed this film already for the blog, so I won't talk too much about it (click the link below if you are interested in what I thought of the film). I will say that the character Mister is one of the toughest and greatest characters I have ever seen in a film. I also liked how the vampires in this film were more creature-like than human-like. And I also like how the film has two sets of villains: The Vampires and a Group of Religious Fanatics, which adds to the drama, because no longer are vampires the only thing left to be feared in the world, instead you have other (paranoid) humans with a Join Or Die motto. If you haven't seen "Stake Land" yet, you must! It is simply too great of a film for you to not see. You will not regret watching "Stake Land", I promise.
1.) Suck
I'm sure I've mentioned this before on the blog at some point: but I HEART the movie "Suck". It's the story of a struggling rock and roll band named The Winners, who finally find success after their bassist Jennifer is turned into a vampire. Pretty soon the other bandmates realize that they can capitalize on the gimmick and the rest of the band have Jennifer turn them into blood sucking vampires. I like "Suck" for a number of reasons: Not only does it have an interesting story, funny and memorable characters, and some kick a$$ tunes throughout, but it also features many famous musicians like Alex Lifeson of Rush, Dmitri Coates from the Burning Brides, Iggy Pop, Moby, Alice Cooper, AND my personal hero Henry Rollins. And just when I thought this film couldn't get any better, Malcolm McDowell—one of my Favorite Actors of All-Time—appears in this film as well. If you're a fan of Punk Rock and vampires you have to see "Suck". It has laughs, it has gore, and it has drama; it's pretty much a 90 minute Vampire Punk Rock Music Video. There is no reason why you should skip over this film, just see it!
I hope you all enjoyed this list and are interested in checking out some of these great films if you haven't already, and stay tuned for future editions of Das Film Junkies 5 Favorite Films.